Every girl has some aspects that are good and some others that are just too good. Some have sensuous figure while some have eyes one can drown into. Some have perfect pouty lips and some have hair that needs no hairdresser. But there are also some things that girls don't like in themselves or it's not any favorite of them. For instance, legs! Not everyone thinks that they have got the perfect sexy legs to wear those shorts or they are simply just shy of wearing it. In such cases, you could go for these Outfits to Wear If You Don't Like to Wear Shorts. Plus, if you are in school, you must check out these flawless outfits.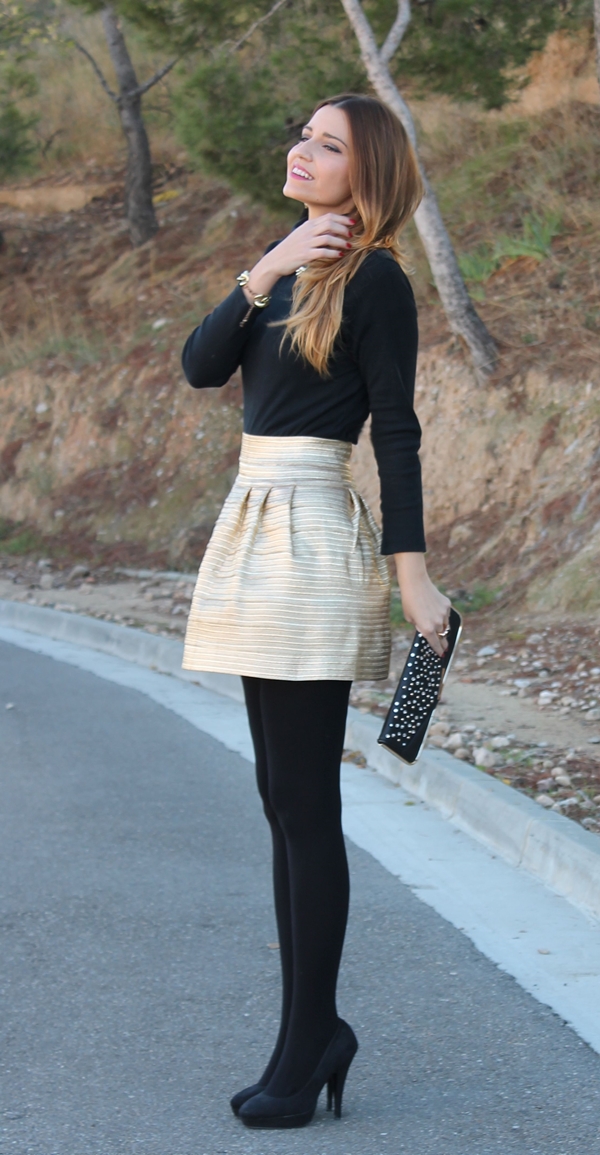 Image Source
Outfits to Wear If You Don't Like to Wear Shorts
Grab a mini skirt
Well, there's not much difference between the length of the mini skirt and shorts but by simply adding a few things to the outfit, you'll be all set to go. Pair your mini skirt with a cute blouse and black tights with matching heels. Your legs will be covered and you will remain comfortable all day. Learn about different striped skirts that you could use in your wardrobe.
Opt the Cropped Pants
Cropped pants look great when paired with a nice sweater or blouse. The loose flare of the pants won't make you feel inconvenient and solves the problem of not wanting to wear shorts. You can either wear sandals with it or pick your favorite sneakers.
Pick a White Jeans
White jeans look best when paired with a simple tee or a chambray shirt. Or you could wear white jeans with a white slip and a denim jacket over it. Pair a beige bag and matching high top sneakers with it and you are done.
Lovely Maxi Skirts
Wear those elegant maxi skirts with a pretty lace top or t-shirt. For a chic casual outfit, this will be a very good alternative to the shorts that you dread so much. Add a belt with a broad width with a plain tee for a simple and casual look.
Get Boyfriend Jeans
Boyfriend jeans give a break from the tight denim that you must have worn for countless times. Pair boyfriend jeans with a simple plain tee and high heels. Keep your hair down with soft waves for a perfect casual day. Know more about different denim outfits.
Cute Summer Dress
Summer dresses look cute and give that soft delicate look overall. And since you don't want to show off your legs, you could pick a summer dress with a bit more length so that it falls well below your knees. Pair a summer dress with matching Espadrilles to add more pizazz to your look.
Elegant Maxi Dress
Just like the maxi skirt, a maxi dress will look beautiful too. In fact, it saves you the confusion of what shirt to pair with it! Opt a simple maxi dress with a simple floral print or if you prefer you could go for the plain ones. Pair it with sexy stilettos and you are set.
T-shirt Dress with High Knee Boots
T-shirt dress looks cute and when paired with the sexy high knee boots you get a perfect casual apparel. You could even try a shirt dress with over the knee boots for something different. Add a lovely hat with it and heads will turn.
Choose A-Line Skirts and Dresses
The length of the dress is up to you. The A-line skirts or dress comes with that elegant flair that simply looks amazing. Add a perfect blouse with the skirt and you will totally kill out there. Or go for a simple cute printed skirt with a plain tee and add matching wedges with it.
Palazzo Pants
Just a look at them makes you feel so relaxed and easy. Pair palazzo pants with a crop top or an off the shoulder top. You could wear a pair of gladiators with it or slingbacks.
These outfits will totally fill up the place of shorts and will look pretty and sexy enough with the correct pairing business. Try them out and say bye-bye to those shorts you hate so much. Also, have a look at these dresses that will make you look younger.