Love is in the air and guys & girls across the globe are waiting for that one day to kneel down in front of their love. Yes; Feb 14! Just 2 months more and then you could express all that you feel. Well, fashion could also be a great idea for that matter for you can amazingly tell them that you are in love with a classy nail art. Innumerable heart designs and couple ideas with romantic texts and Valentine's Day Nail Art Designs are here to taking your passion high on mood.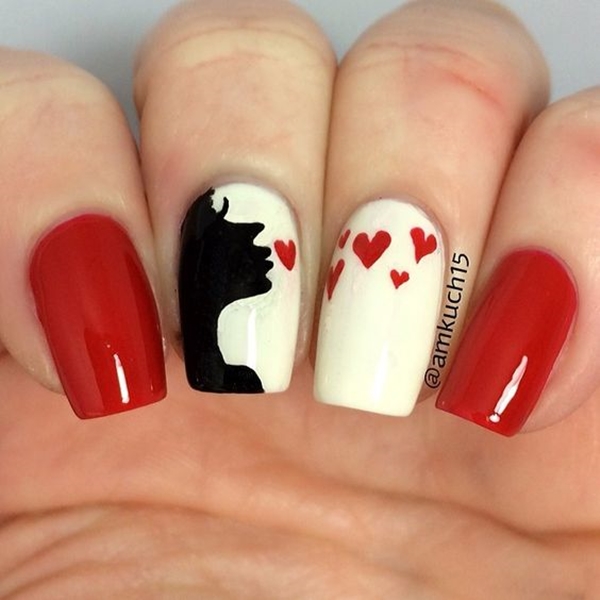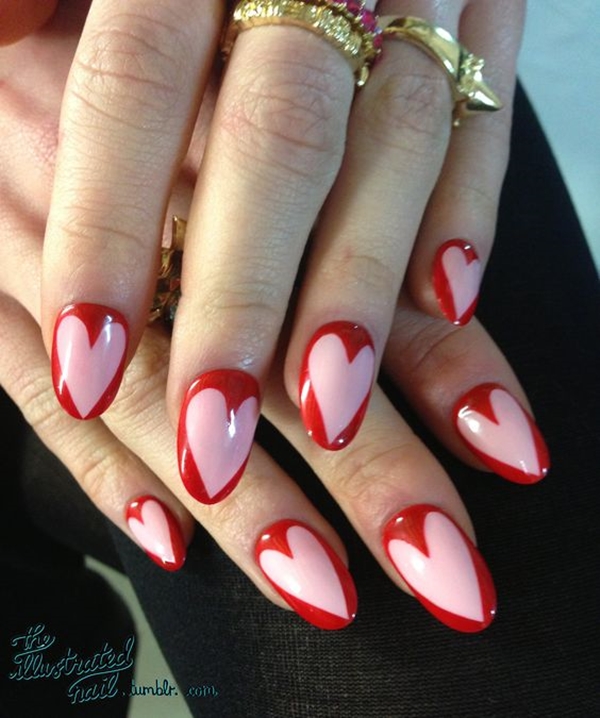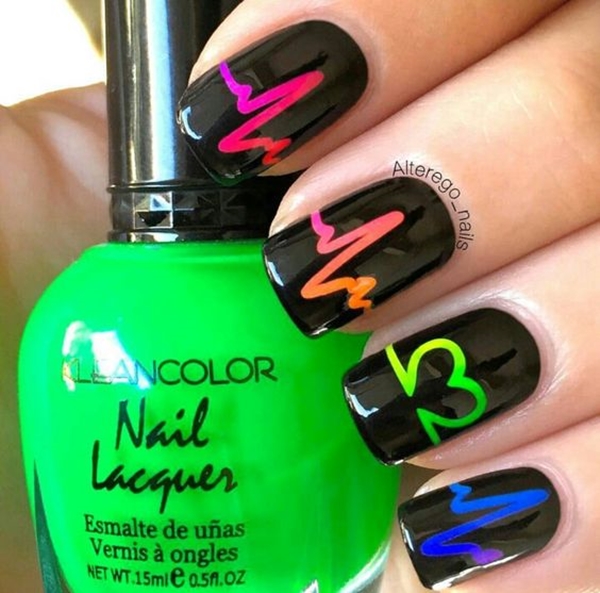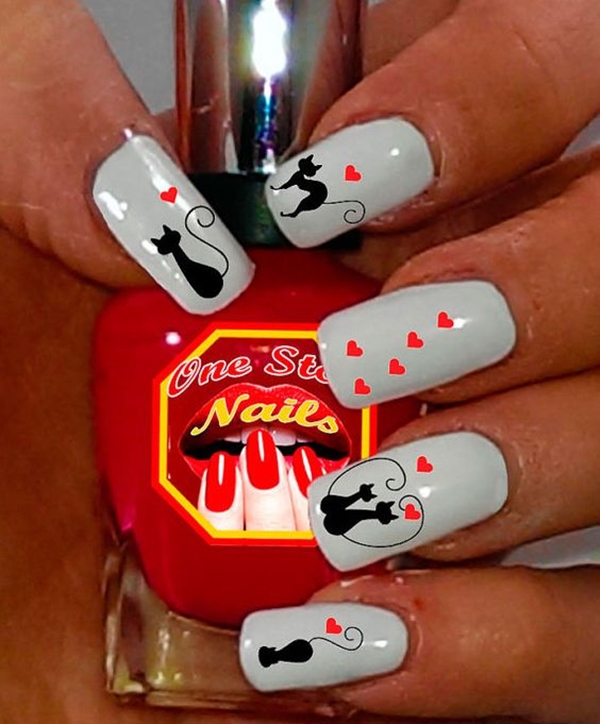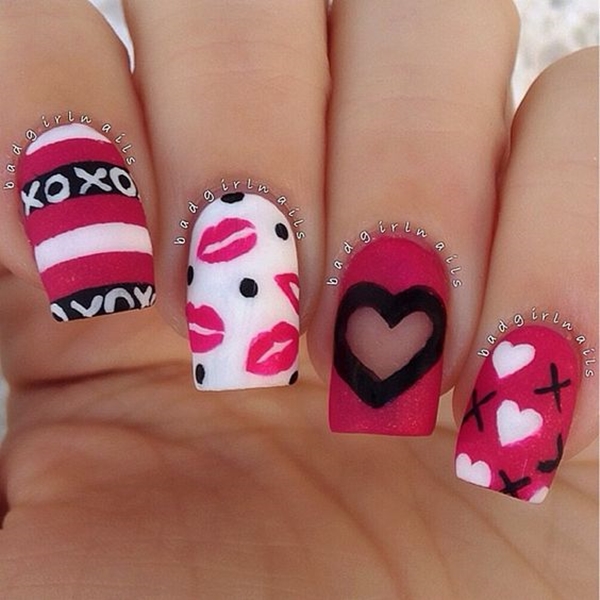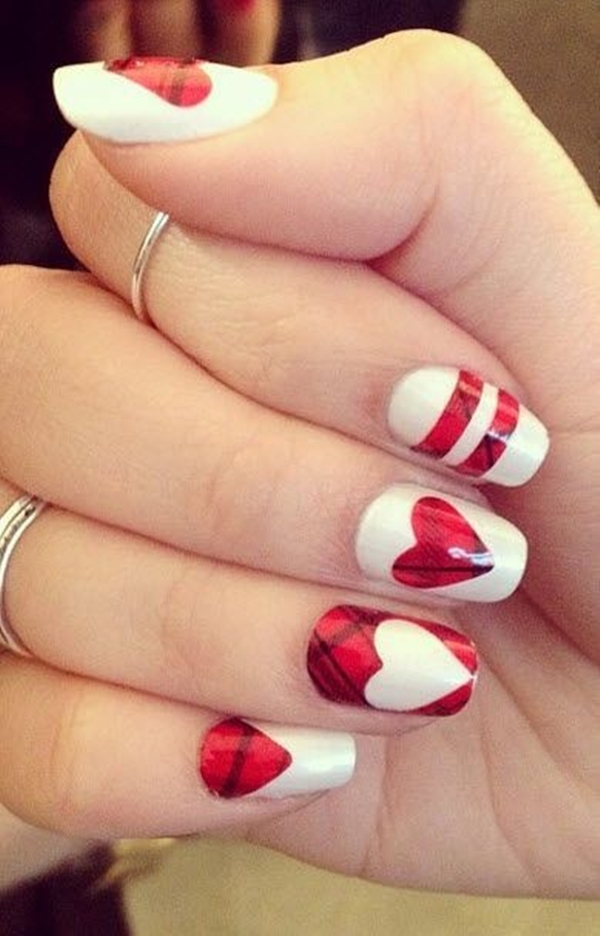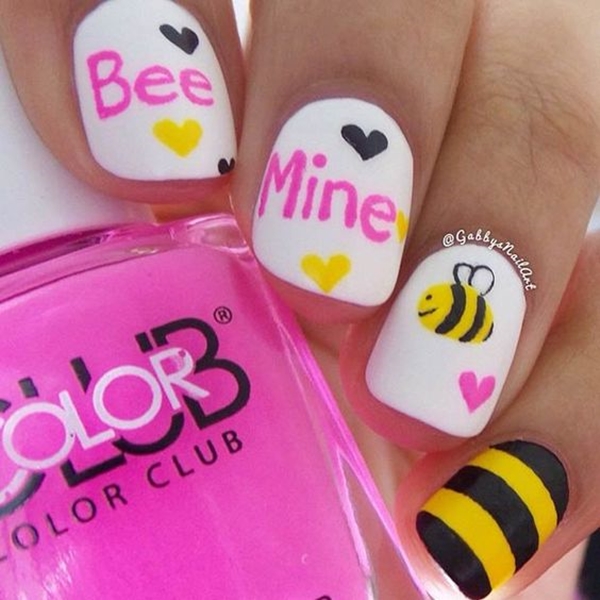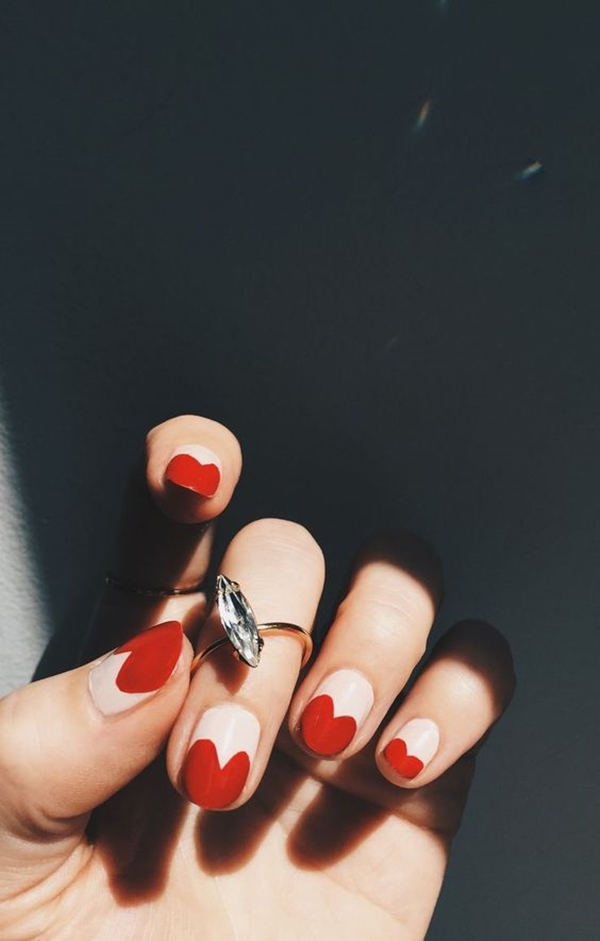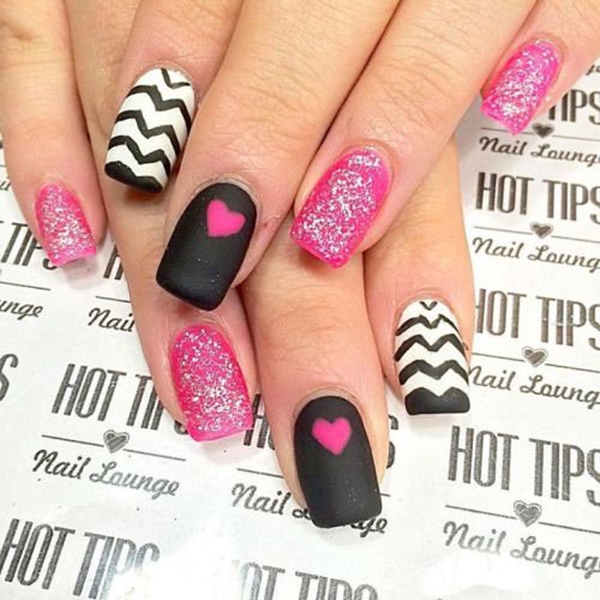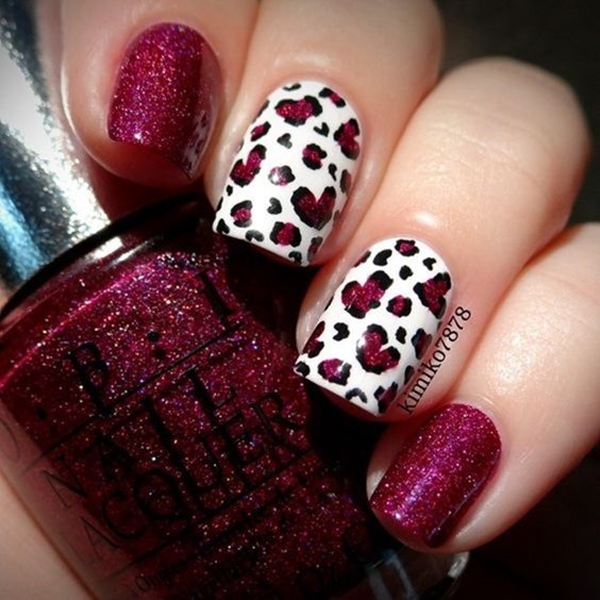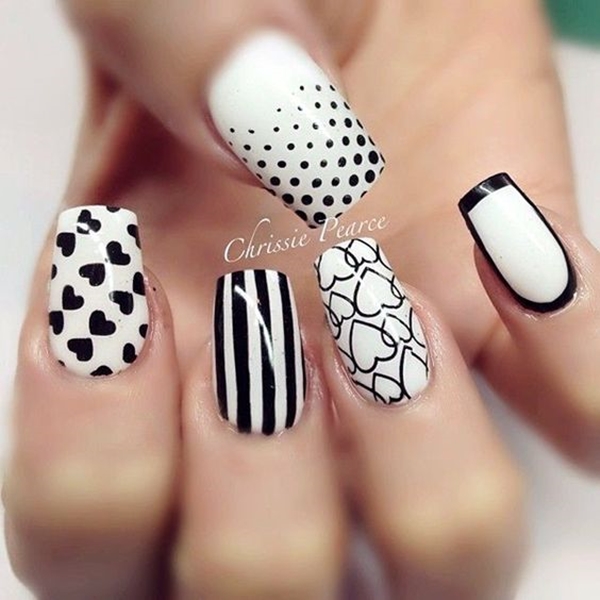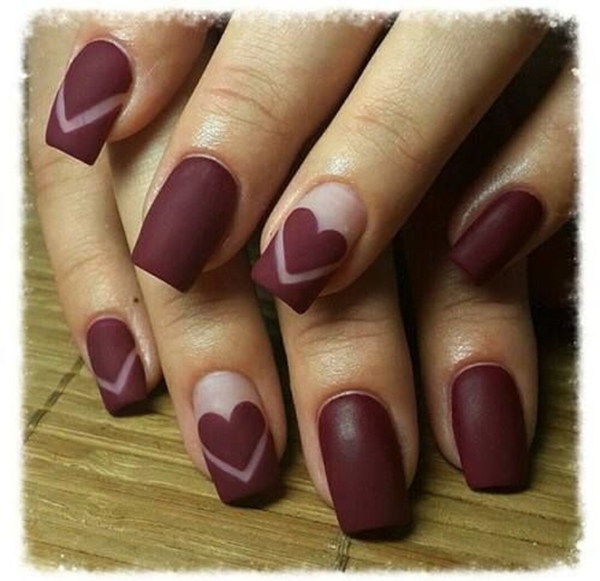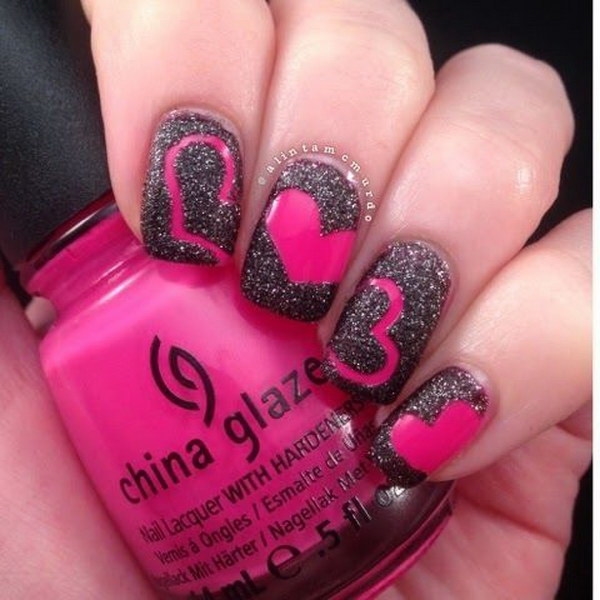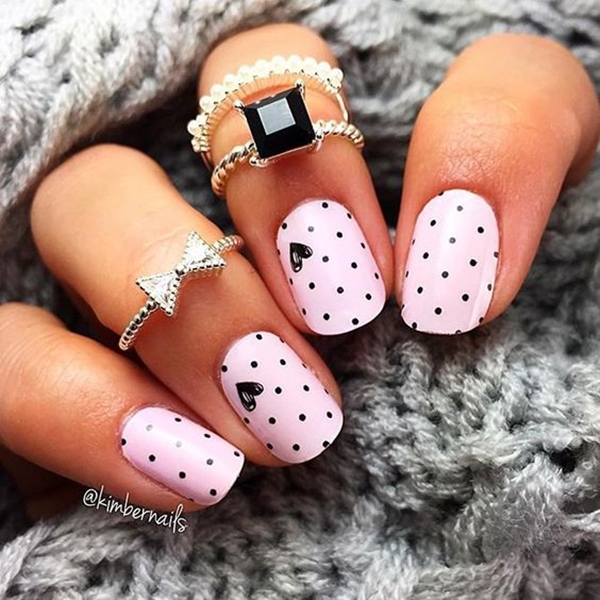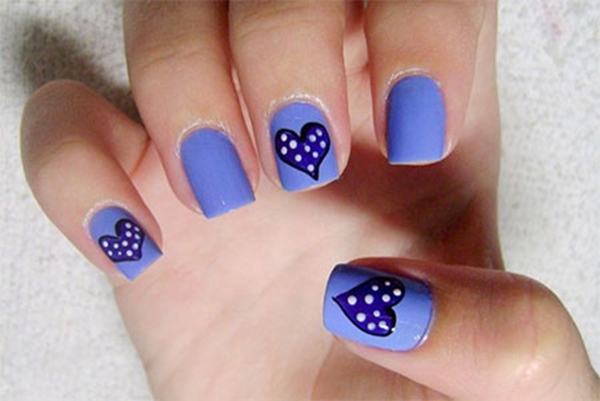 Valentine's Day Nail Art Designs
Studded Heart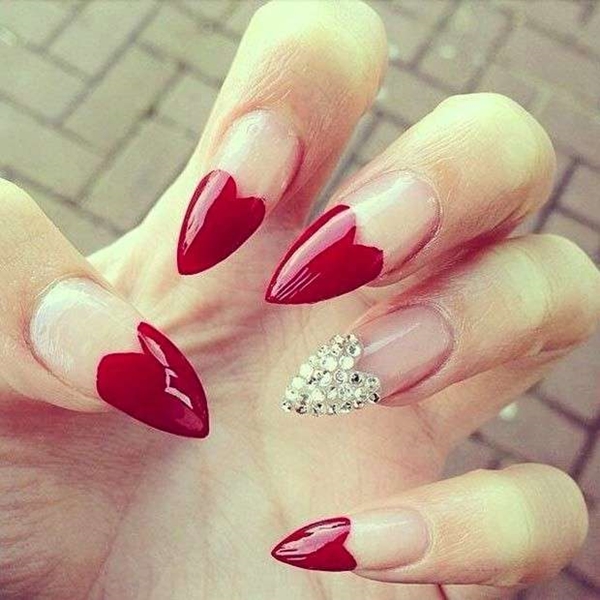 Stiletto shaped nails look perfect with heart on the tips decorated with scintillating studs and they be the most eye catching part of your French manicure. Highly romantic mood turns on when you grab the red nail color making the heart on other nails. Perfect for the love-in-the-air kind of ladies who would be dating their man this valentine. Grab a really nice red dress and this will compliment the nail art as well.
Polka Inspired Heart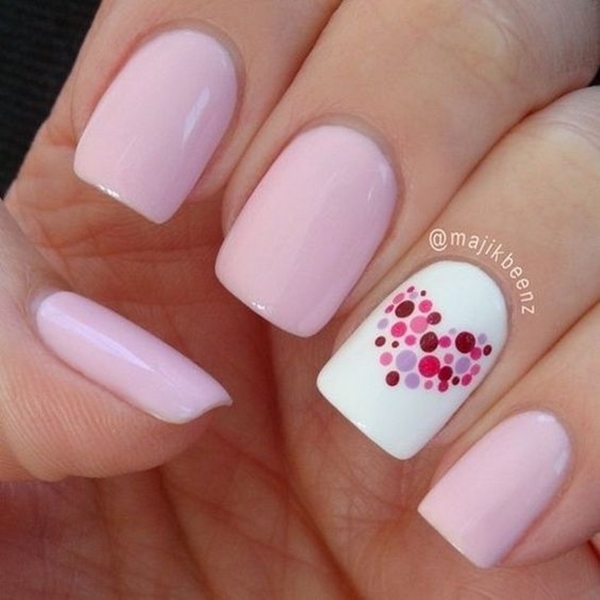 Paint a white base coat on the nails and grab the polka inspiration to make a heart. Valentine's Day Nail Art Designs and that too with the polka art is going to be the real fun doing this manicure. You may simply paint other nails in some romantic hue like pink and red matching with some exotic outfit.
HEARTbeat!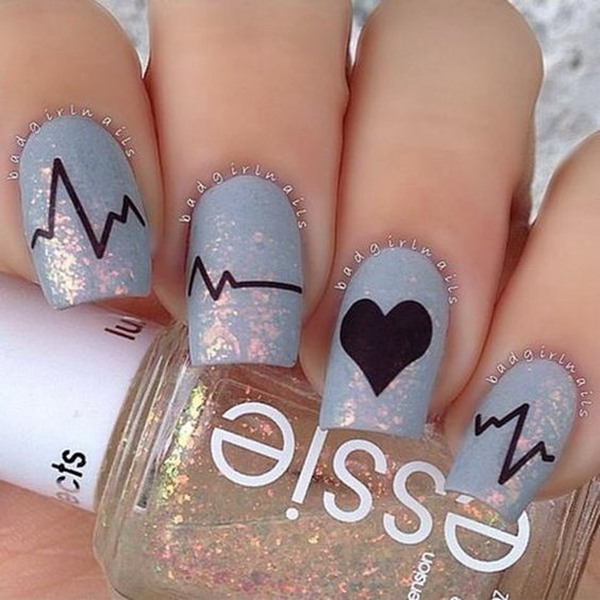 Light colored base coat and dark hued nail polish used to embed the design over the base. You can also use that cello tape trick to get the perfect straight lines of heart beating. Don't miss out trying the ombre heart beat nail art once in the valentine week. This nail art looks smashing with neon colors on it matched with neon inspired outfits.
Tic-Tac-Toe… I got you!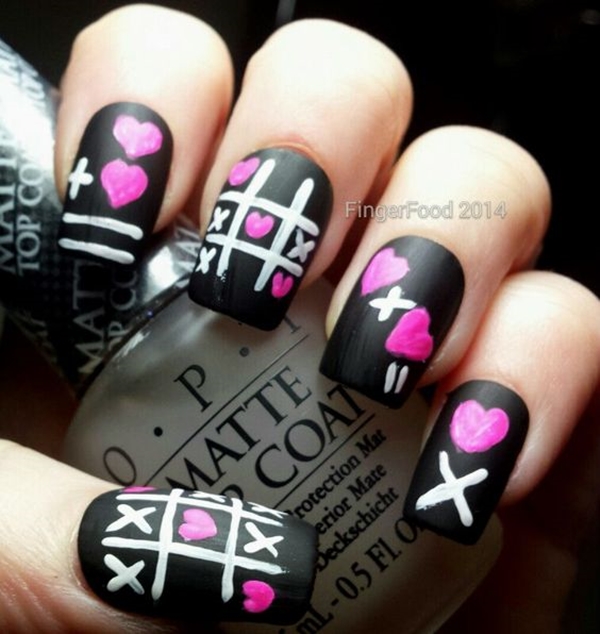 This was a game that people play as their favorite pastime. He may be the one that you played this game with getting one step ahead than friendship! Why not surprise him with this nail art today and get all of those memories flooding back? Moreover, this is a creative idea to give a hit with the amazing matte nail shades.
French Heart Manicure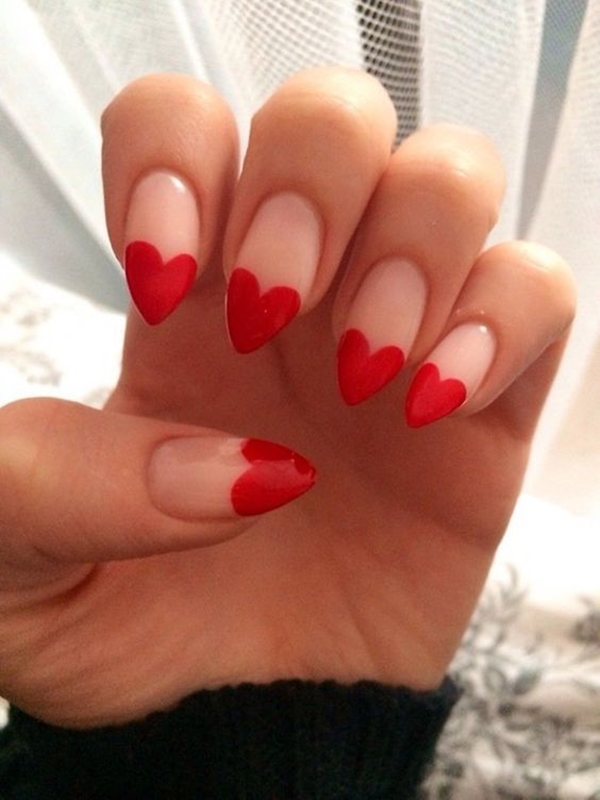 File up your nail in stiletto shape since it is going to make the usual idea of painting the heart a unique one. Don't forget to coat up the nail with a transparent one after the base and the design gets dried. I am sure you would love it because this design is simple and still flaunts your heart jumping with love.
Kiss Nail Art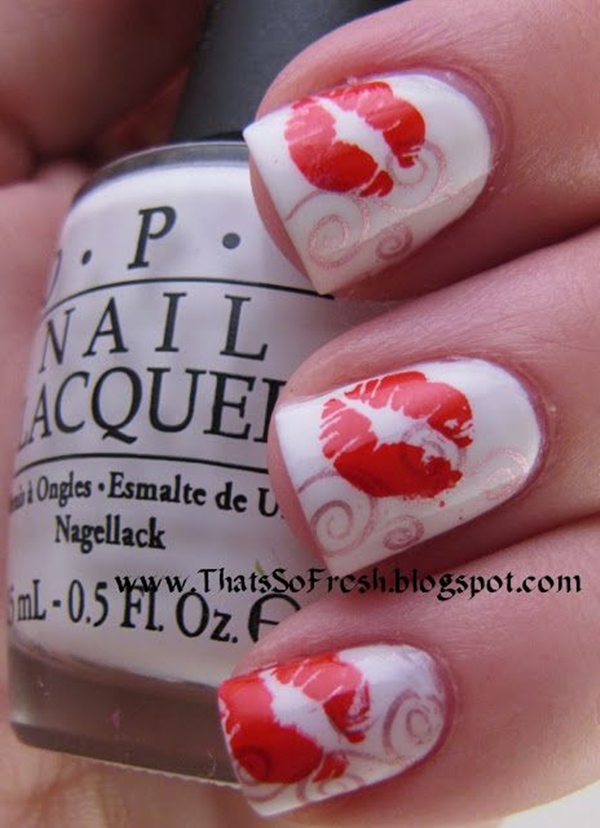 Valentine's Day it is! And love is all over the world. Doesn't matter if you are in love or not; give a kiss on the nails if you are in love. Else, paint it for yourself. Loving yourself is also an asset and trust me; not everyone knows how to do that!
Cutie Kitty Couple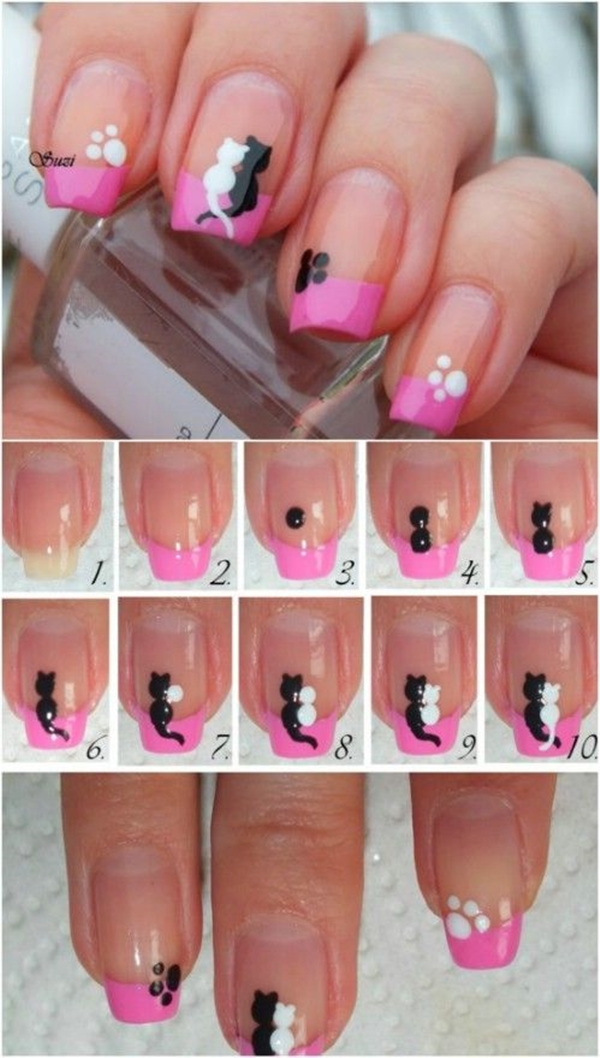 Two cats sitting together hand in hand on a rooftop maybe a romantic yet feminine idea for you to get it nailed. Using more ladies like colors will also add an ingredient of love to the amazing Valentine's Day Nail Art Designs. Bring the fashionista out from within and see how the definition of vogue changes this valentine giving you all the classic ideas to try.
Rainbow Heart Print Manicure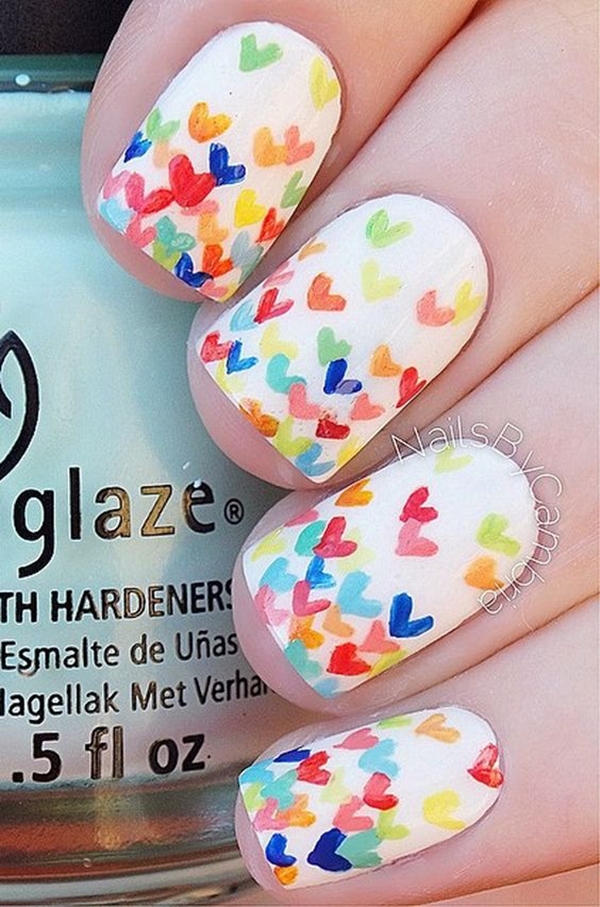 Love is colorful and so does the Valentine's Day Nail Art Designs. Simply take a sticking paper and cute as many hearts as you want. Applying the base coat and letting it dry will be the first thing. And then simply stick the paper on the nails and get the sponge with shades of all the colors on it rubbed on the nails. See, rainbow hearts are ready!
Valentine Font Manicure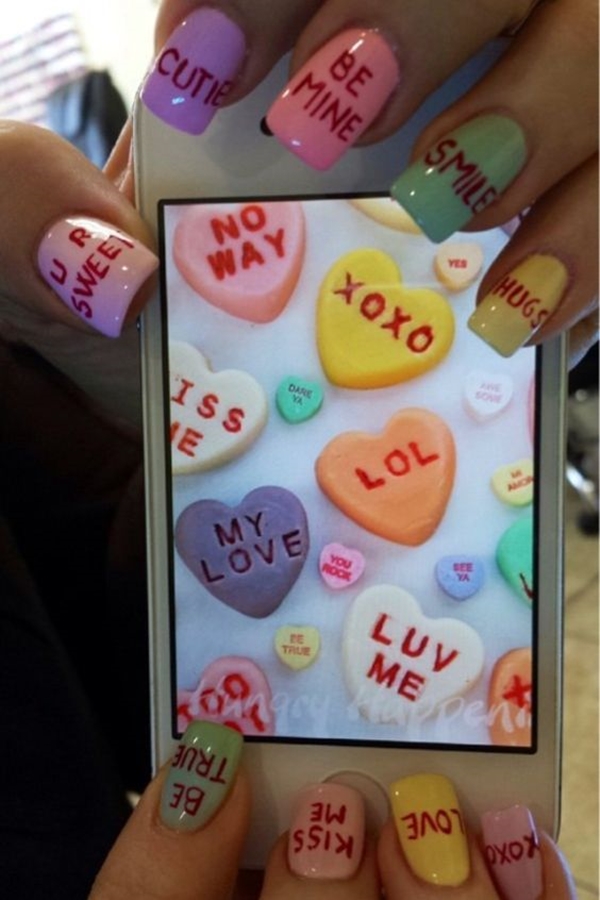 All that you are feeling this Valentine's Day could be summoned in this one dapper Valentine's Day Nail Art Designs. But using darker base coat will not let that one element of romance and fashion come out but the white will pop the design instead. This nail art will also work if you are feeling anti-valentine this year! Wink!
Love Message!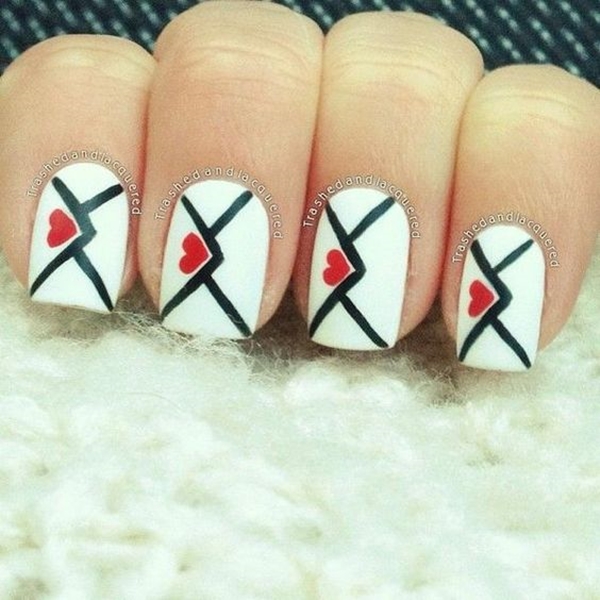 Nothing, just a white base coat with black thin lines as patterned for an envelope. Putting a heart all over it is going to make it a love letter. Yes, you can also write his name over it with hearts making it more fun and romantic as well. Finding red more romantic for the love letter? Go for it and paint the letter with sequin nail polish for a glamorous look.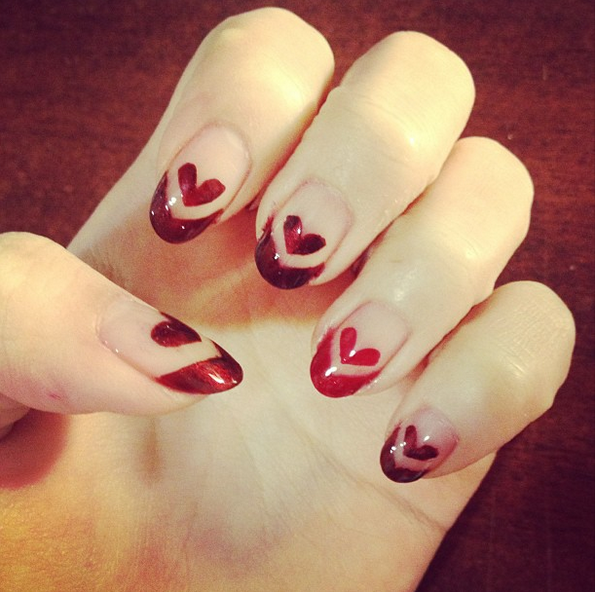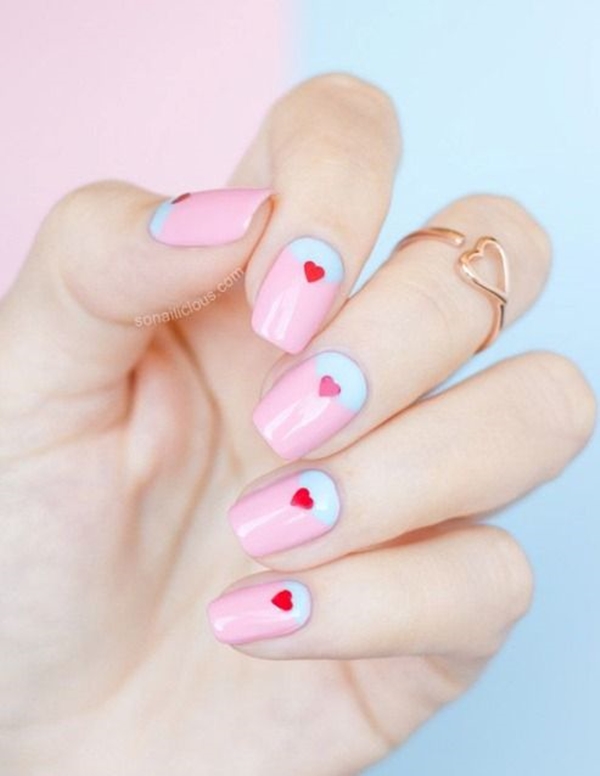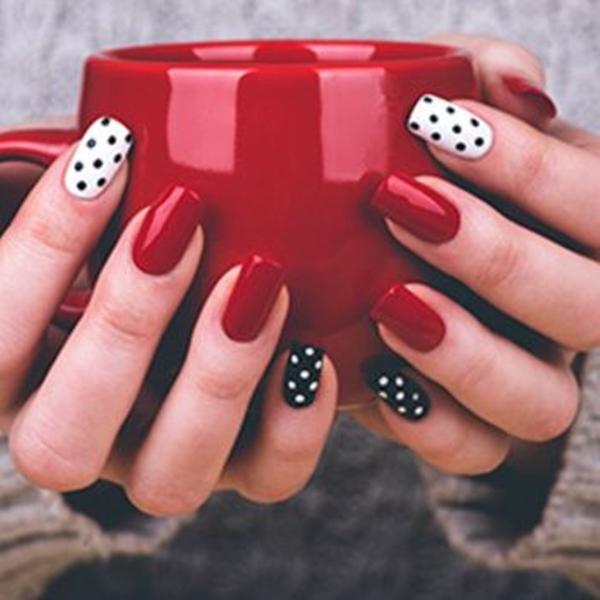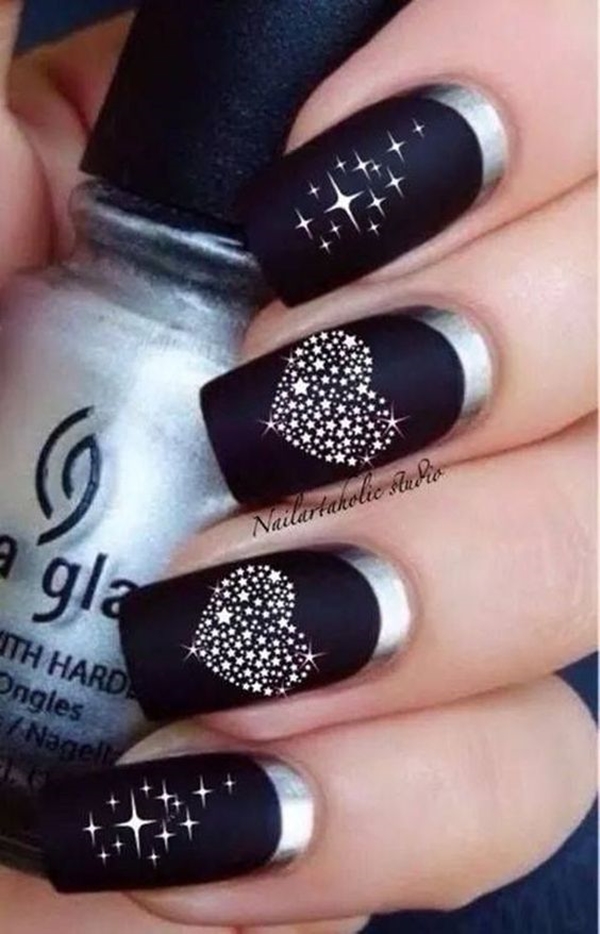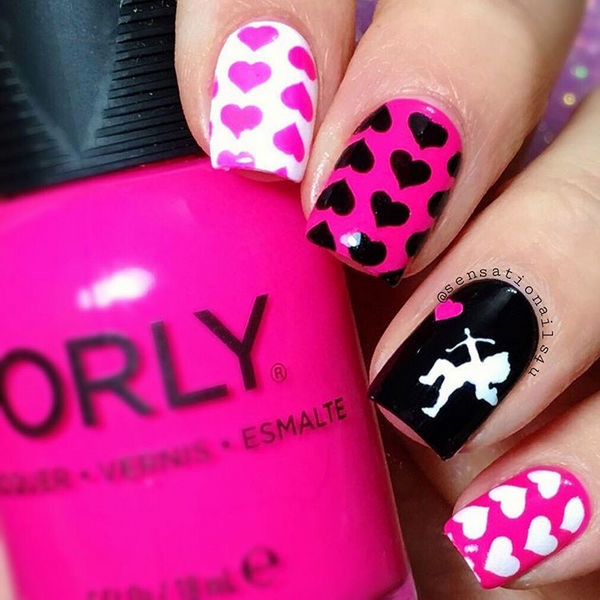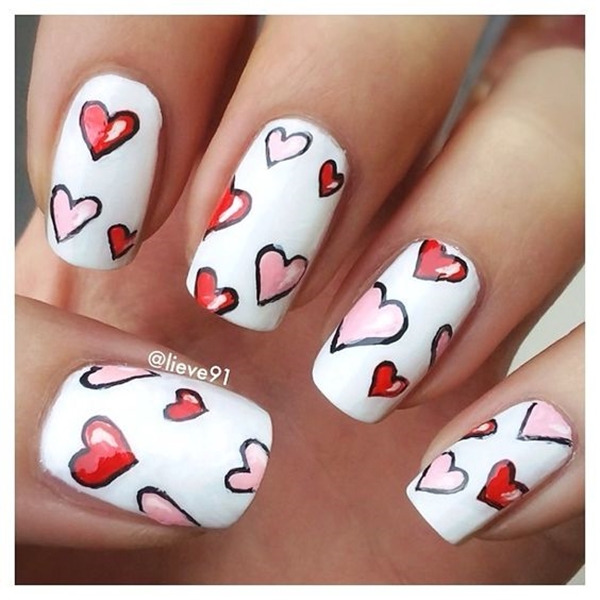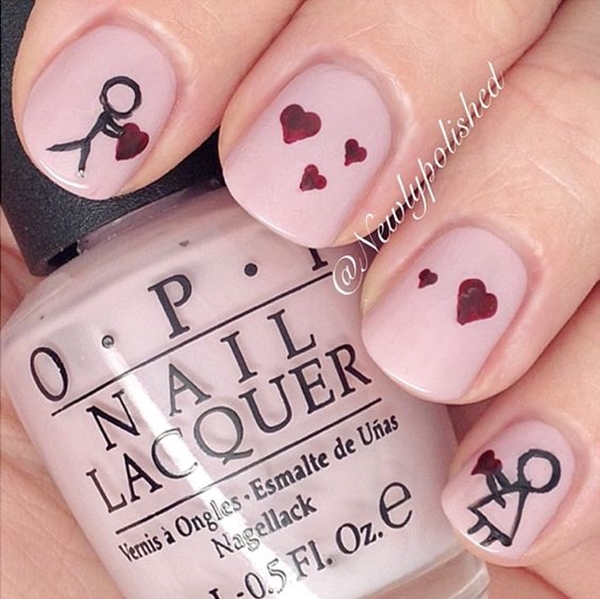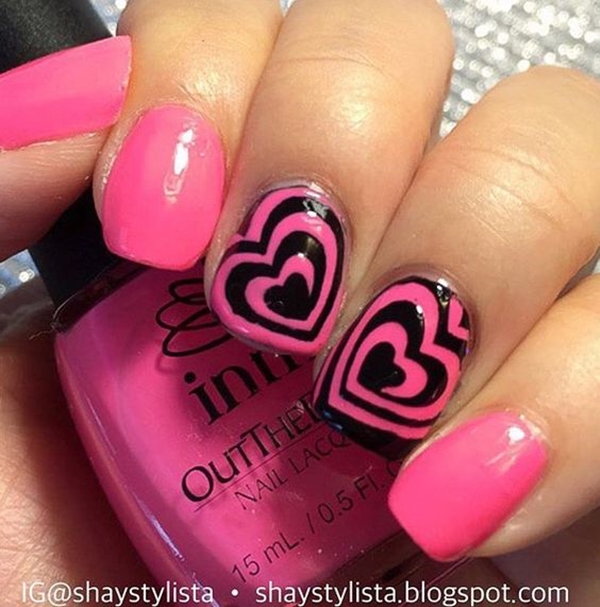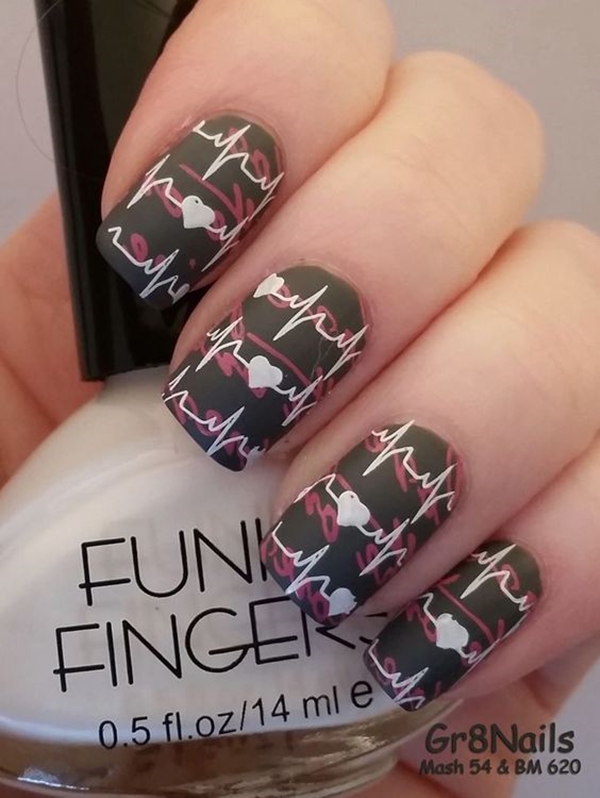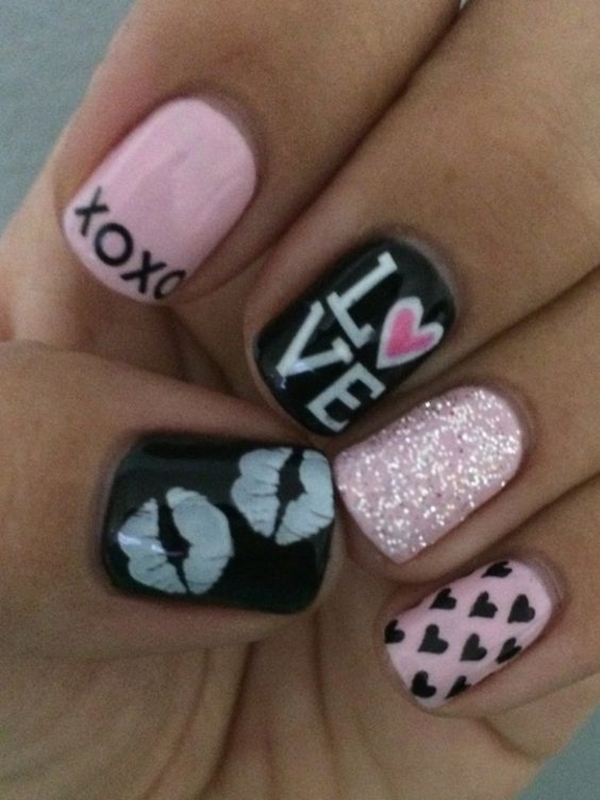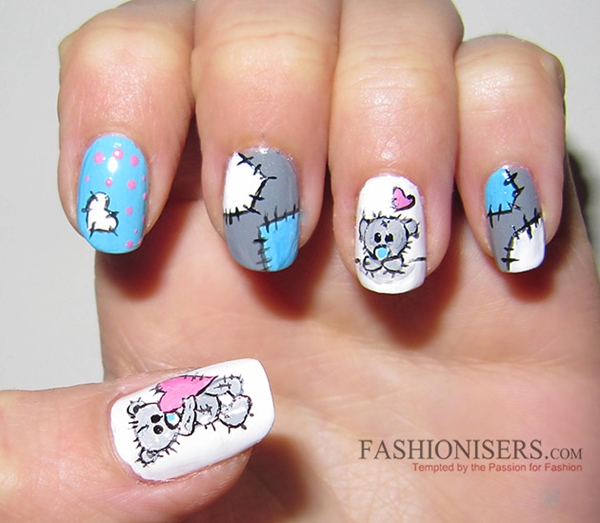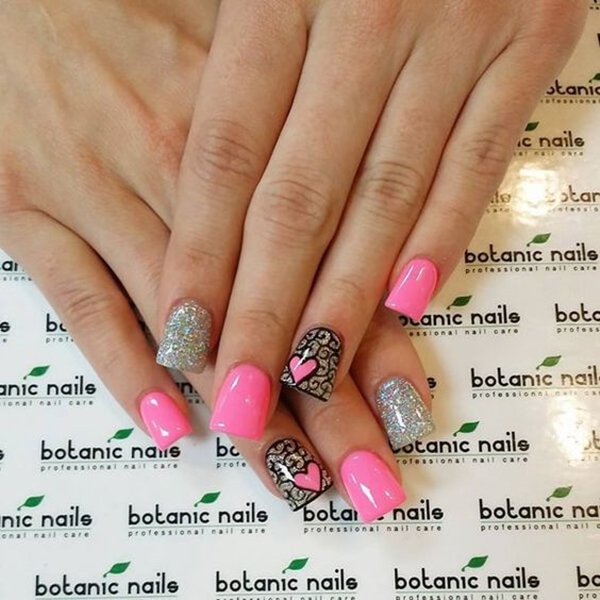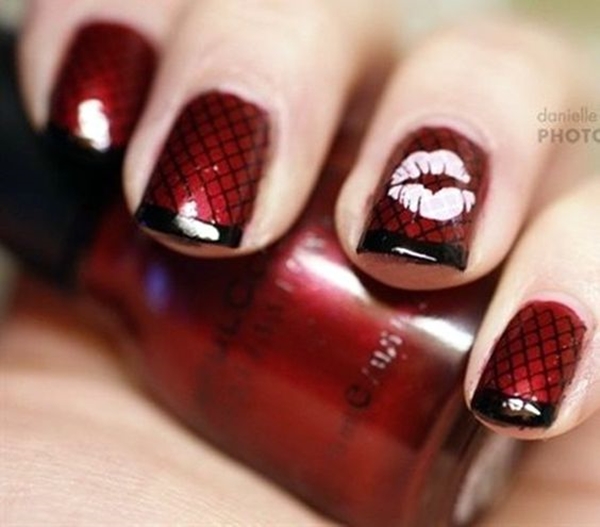 You are in love; get it for your valentine. NO? Then why not celebrate this amazing idea with yourself. Loving yourself is also a tough job babe! And I am sure you will enjoy being with yourself as well. Happy Valentine's Day folks! Have a huge blast!