Wedding is one of those things that a girl feels not just the butterflies but the entire zoo in her stomach. It is the pure blessing that creates new relationships meant to be carried along for entire life. And then comes the wedding ghagra-choli with sexy ethnic jewelry which makes a bride look impeccably ready for her wedding. Ask your hairstylist for a perfect wedding hairdo as well. Wait; aren't you missing something? Yeahhh, the Beautiful Mehandi Designs for Weddings is something without which no bride could feel complete on her wedding day. And how can she miss the cute feelings of her friends teasing her by writing her groom's name in her hand?
And what fun it is to follow the old ritual which says, "the darker the Mehandi, the more your husband will love you". Here are some mind-blowing tips and tricks to give you a darker Mehandi on your life's biggest event.
• Leaving henna for a longer time will help it retain a darker hue. Keeping it away from water for at least 7 to 8 hours is preferred. Though, you may always increase the time to 12 hours securely.
• It is suggested to chafe out henna by rubbing hands and "without using water" as to make your Mehandi have a deeper shade.
• Since you wish to keep your henna for a longer time, you may use sugar and lemon mixture to keep it sticked to the hands thereby helping lemon to penetrate the deeper color of Mehandi.
• Place some cloves on the tawa and run hands over it so that you could feel the fumes on your hands till it gets that dabbed lemon-sugar water dried.
Beautiful Mehandi Designs for Weddings
African Mehandi Designs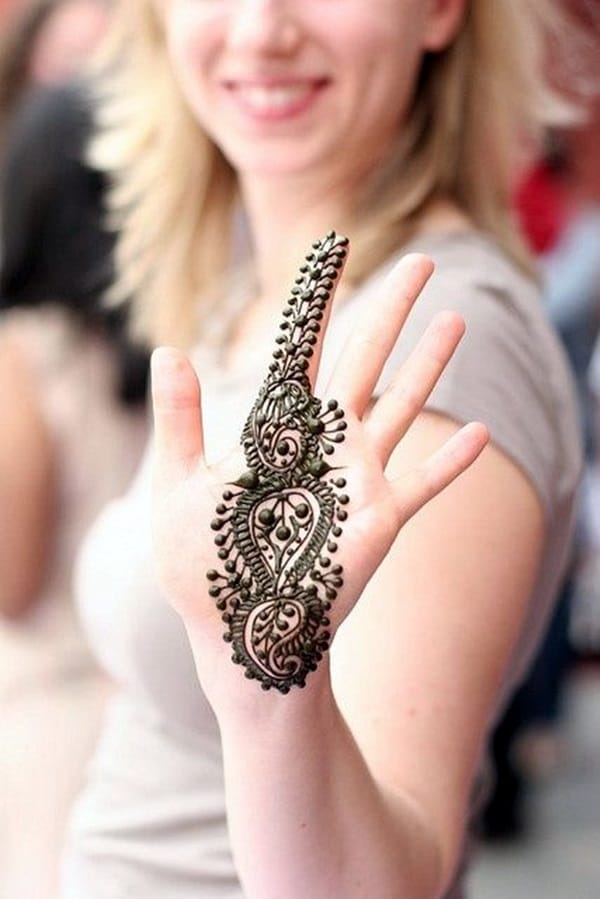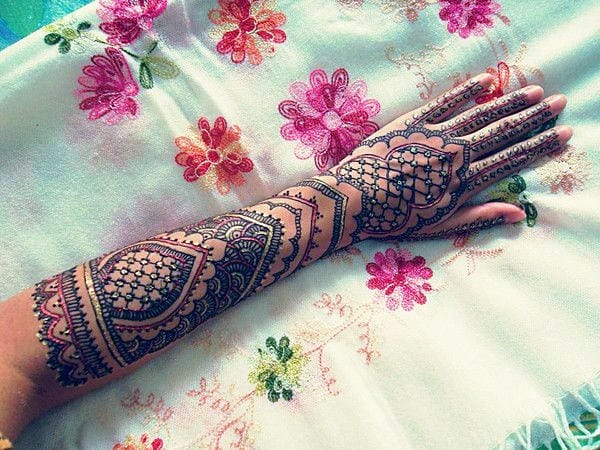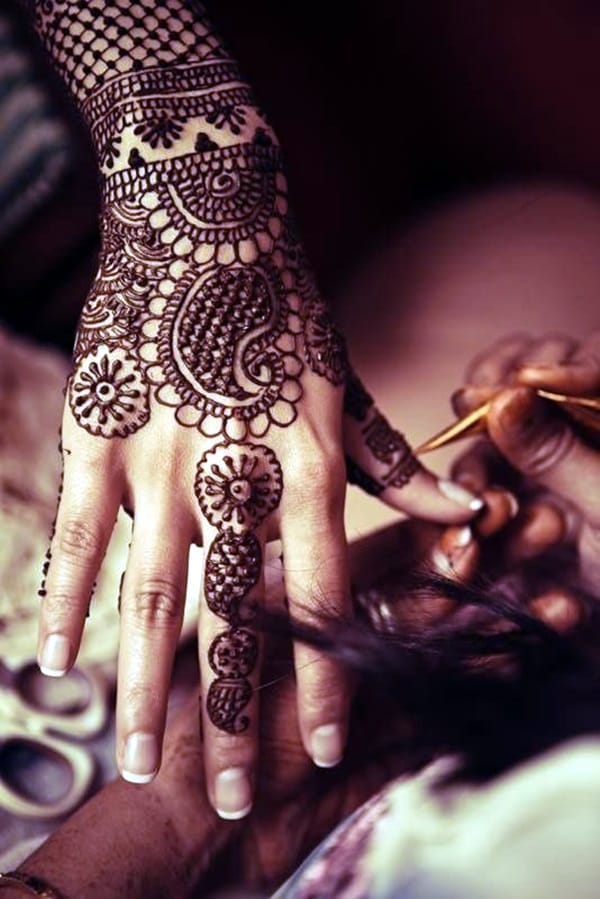 Much like the Arabic Mehandi designs, African Mehandi also comprises of simple outlined figures and no detailing is involved. These designs are much simpler and detailing is done using dots and lines and certain geometric figures. The figures left undetailed don't mean it looks empty since the size is kept smaller then.
Arabic Mehandi Art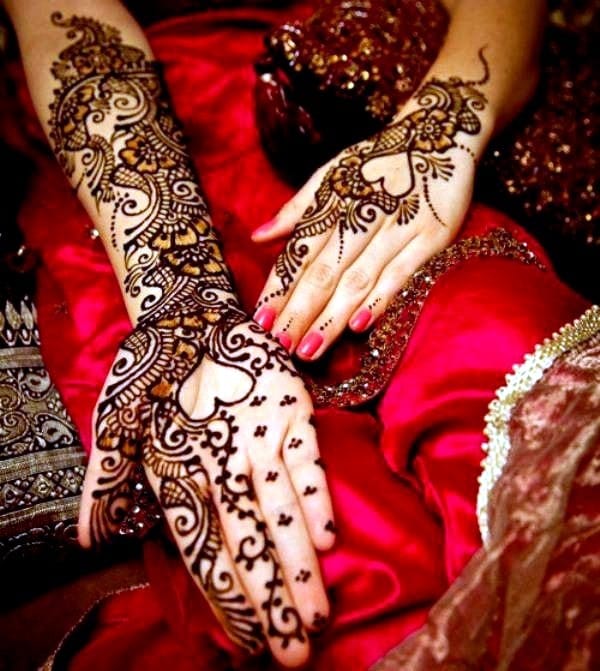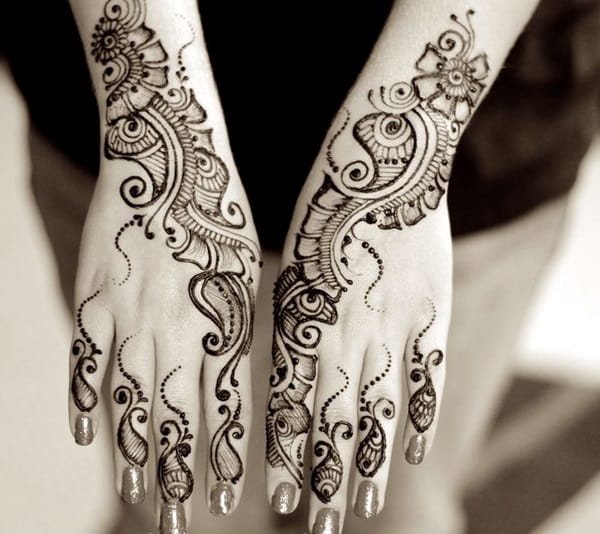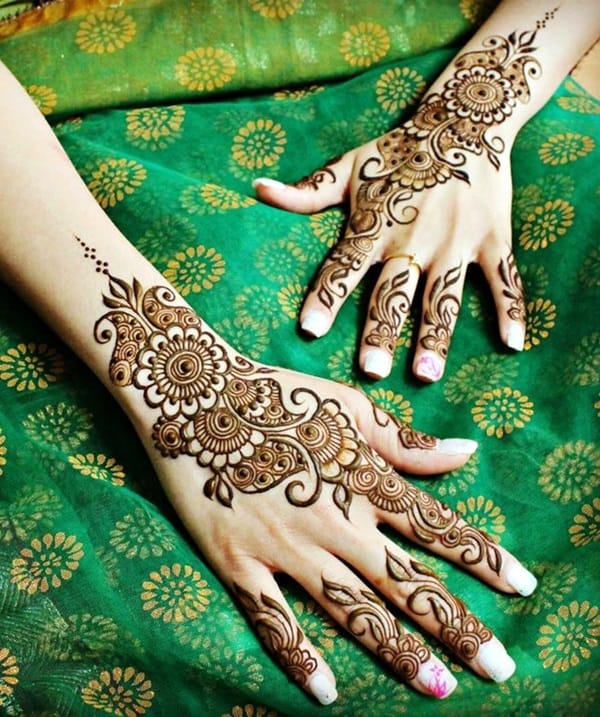 On comparing the most complex Indian Mehandi designs for brides, you will find Arabic Mehandi much easier. Mostly the leaves and vines and flowers and peacock and dots are the symbols that an Arabic Mehandi design is comprised of. Original Arabic Mehandi had a unique distinguishable feature of not detailing up the shapes; just the simple outlines. Though, things always go on changing!
Indian Mehandi Designs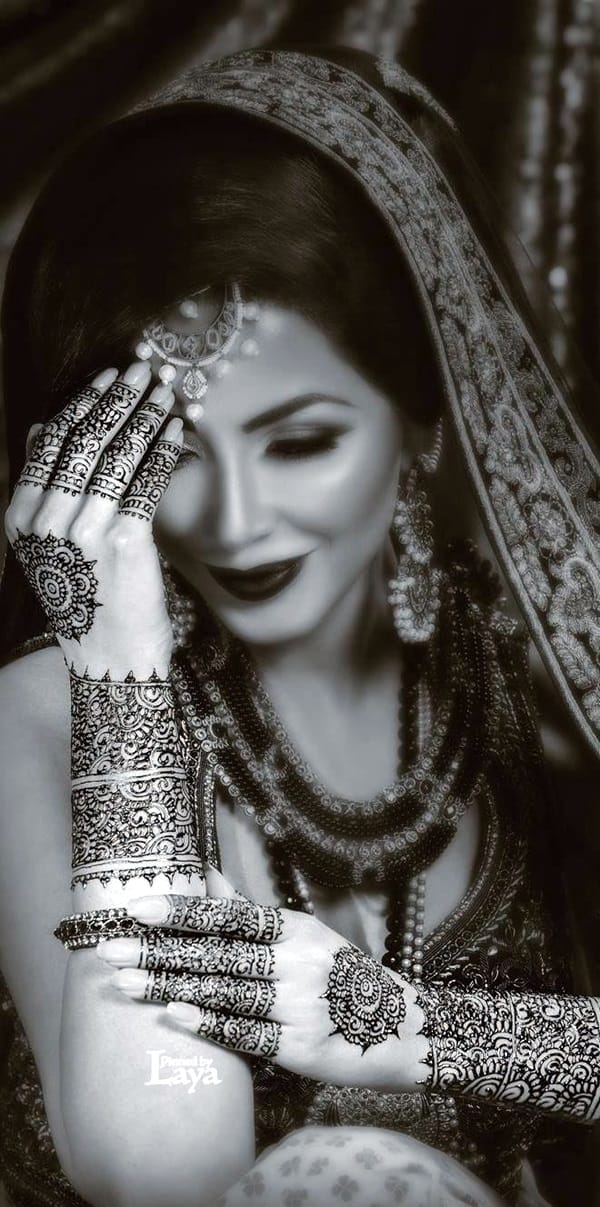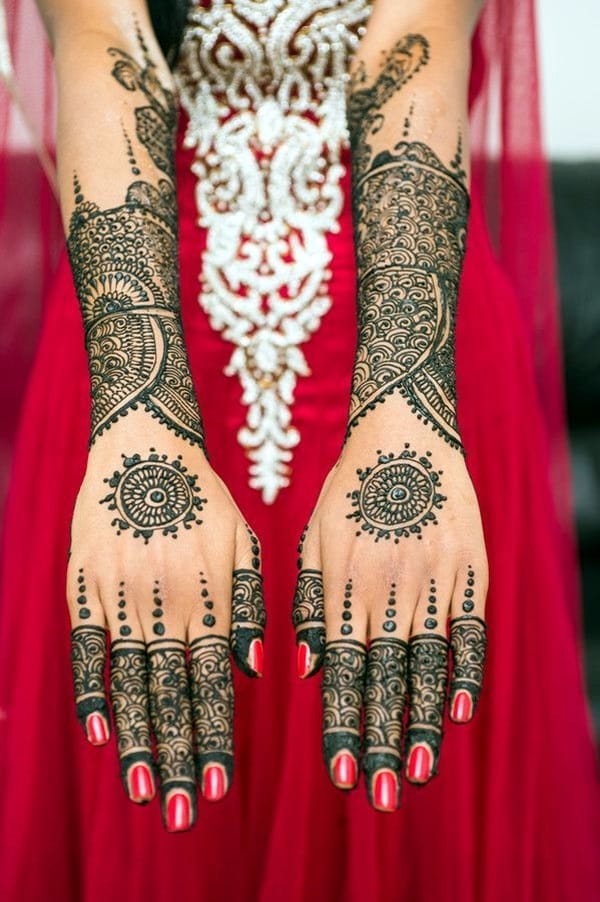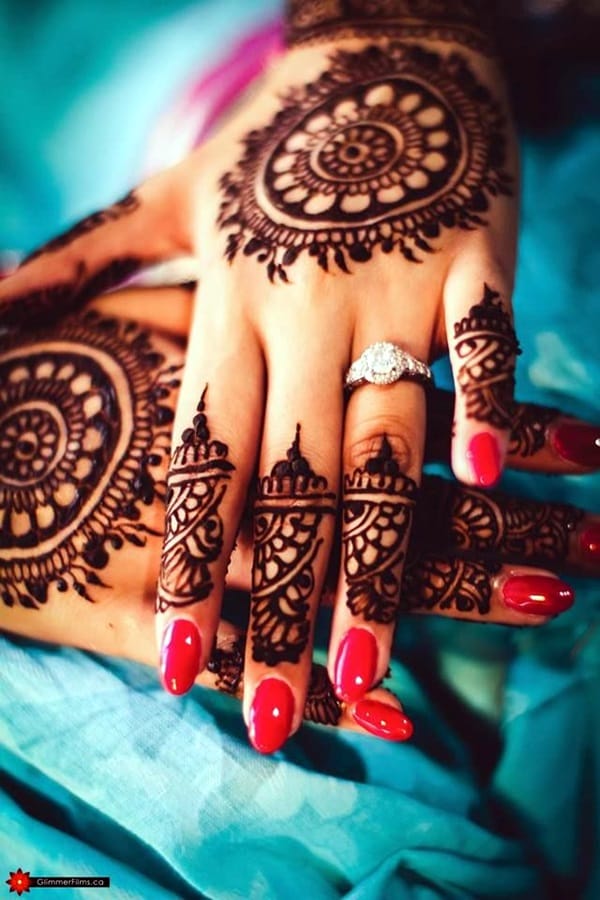 Indian Mehandi designs have a huge branch with differing designs and ideas that permute and combine together to give a bride a detailed and Beautiful Mehandi Designs for Weddings. A big dot along with the design on its circumference on the back of hand and centre of palm is a famous form of Indian Mehandi Designs.
Indo-Arabic Design Ideas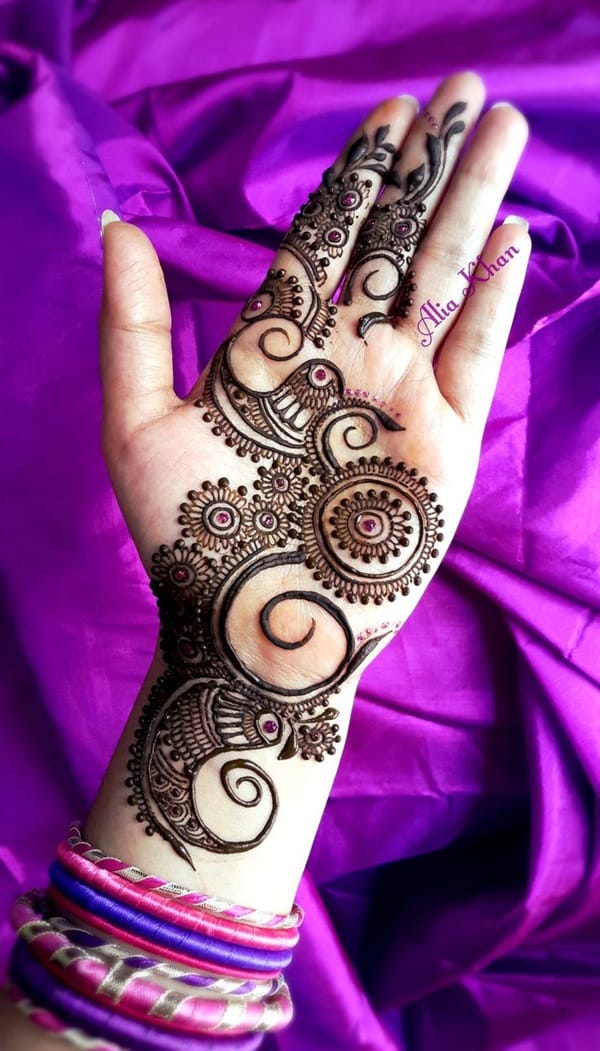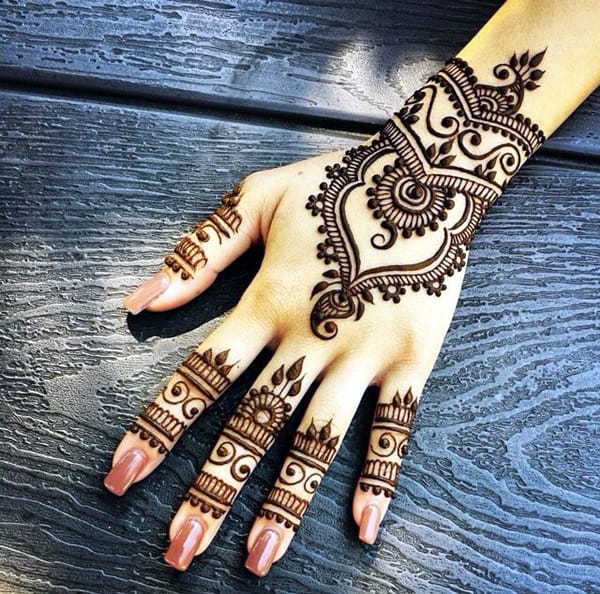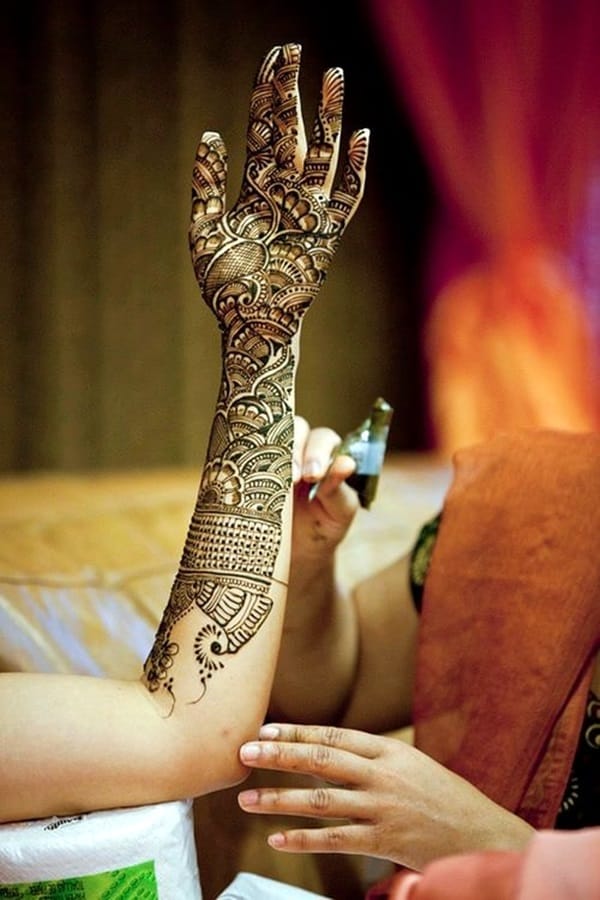 The outlined Arabic idea and the detailed Indian version together bring Indo-Arabic couture in Beautiful Mehandi Designs for Weddings. You may ask your artist to get the complete oh-so-elaborated look for you and theme the lighter Mehandi artwork for your friends and relatives thereby making this design idea a theme for your marriage.
Moroccan Mehandi Designs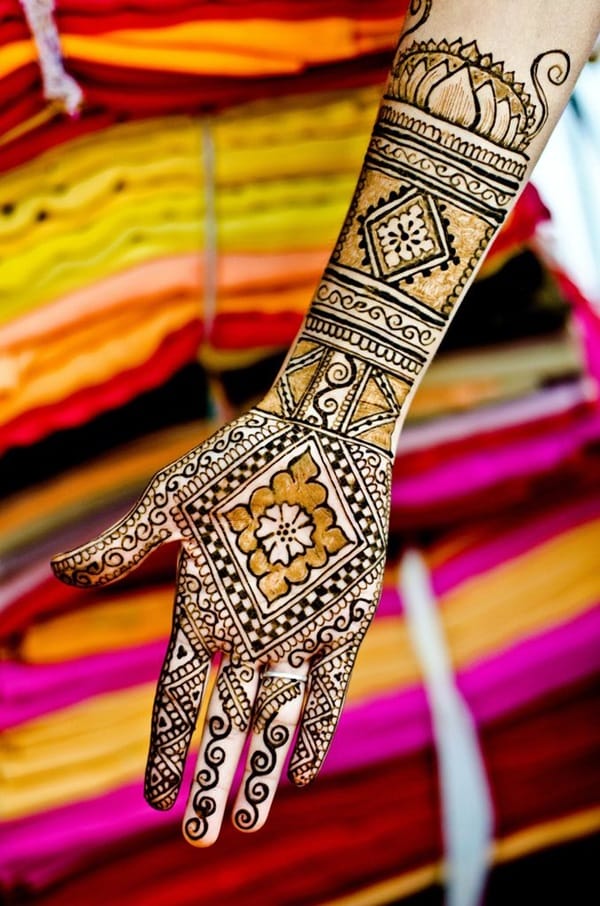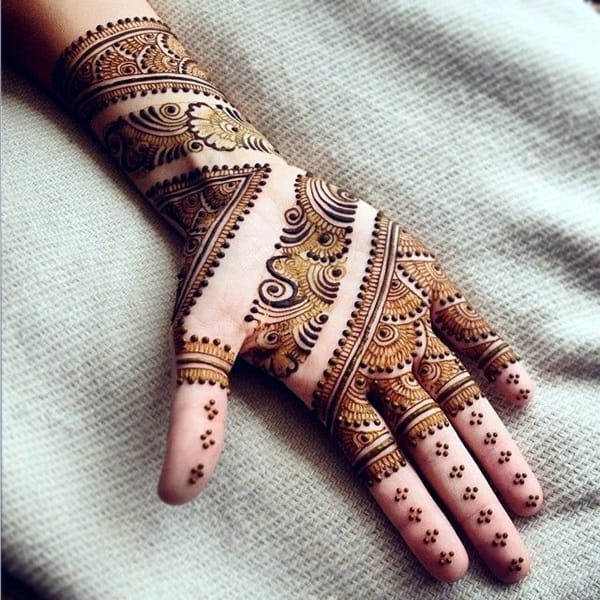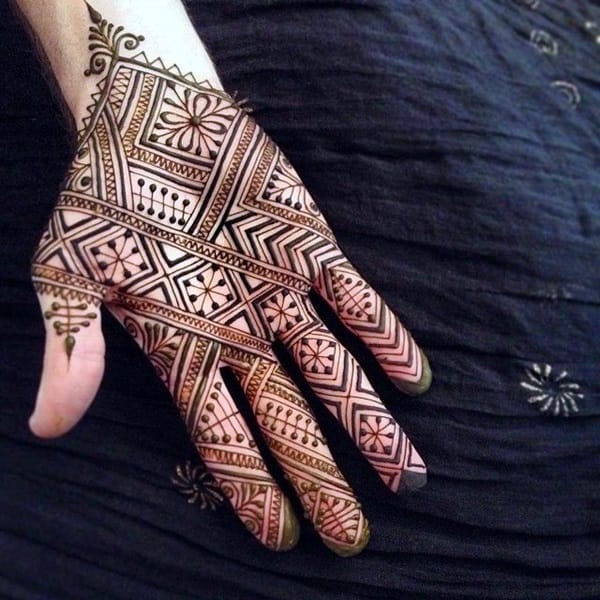 The middle-east discovered this Beautiful Mehandi Designs for Weddings that insists upon following the geometric designing. It is completely a unique design since it does not focus on imprinting those common floral artworks. Though, it also has undergone certain modification in detailing thereby making it way beautiful and worth a try in wedding.