Weddings? The day when two souls name each other to each other and scope of loving unconditionally increases once again. Once again, the lovebirds justify the power of love over hatred and all other evil emotions. The most loved times for the bride, groom, their families and friends, it is. Where on one hand, the family and friends are busy managing everything around, attending guests and seeing if everything s happening perfectly or not; there are two people – the bride and the groom who are creating new memories together, which they will cherish for a lifetime. Wedding anniversary goals be like…read here!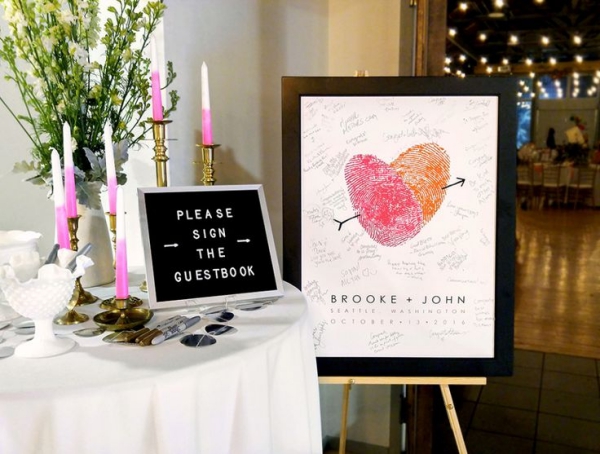 How are you planning to keep the trajectory of this new journey you are going to start and remember what blessings everybody gave you? Memories are important and we will not let these memories fade! HEY! You can take inspiration from these Wedding Guest Book Ideas to keep of all memories safe and this one most important day of your life forever cherished. After all, you overcame all the confusions and difficult times.
Wedding Guest Book Ideas
Messages From All Over The Globe
I am sure you must be having guests attending your wedding from different parts of the world. Create a vintage atlas and let the guest sign and leave a message from the city and country they belong to.
The Chalkboard Book
Go the old school style and let your guests use the chalk and write on the chalkboard book. You can get creative here and allow them to choose a variety of colors for chalks. Allow them to draw or write. Colors, after all, fill in the most joy in things so intimate and emotional like this Wedding Guest Book Ideas.
The Photo Booth Book
This is one of the most creative wedding book ideas, where you need to make some arrangements. Hire a photographer and set up a photo booth with some cool messages already there. Let your guests pick from the available and pose! The photographer will give instant photos, which will then be signed by the guest and glued in one big book.
Message In The Form Of The Labels of An Old Wine Bottle
Bring out all those used and old wine bottles and let your guests write their messages as the labels of those bottles. You can either print some messages and keep or let your guest's wrack their creative heads. Isn't it a cool wedding guest book idea?
The Dictionary Game
Why not involve the guests in some English games? Let the guests go over a list of describing words from the dictionary and circle the ones that they think suit you or the couple the best. No brain Wedding Guest Book Ideas it is that will somehow improve their vocabulary. You just need a dictionary and a few colored pens to rock this idea.
Get The Fingerprints Imprinted Forever
Keep colorful stamps and a plain book for your guests. Let them give you their thumb impressions forever along with their super cool messages for the couple. Cute idea that even a new born could do. Imagine you showing that Wedding Guest Book Ideas to
Bring On The Pictionary Game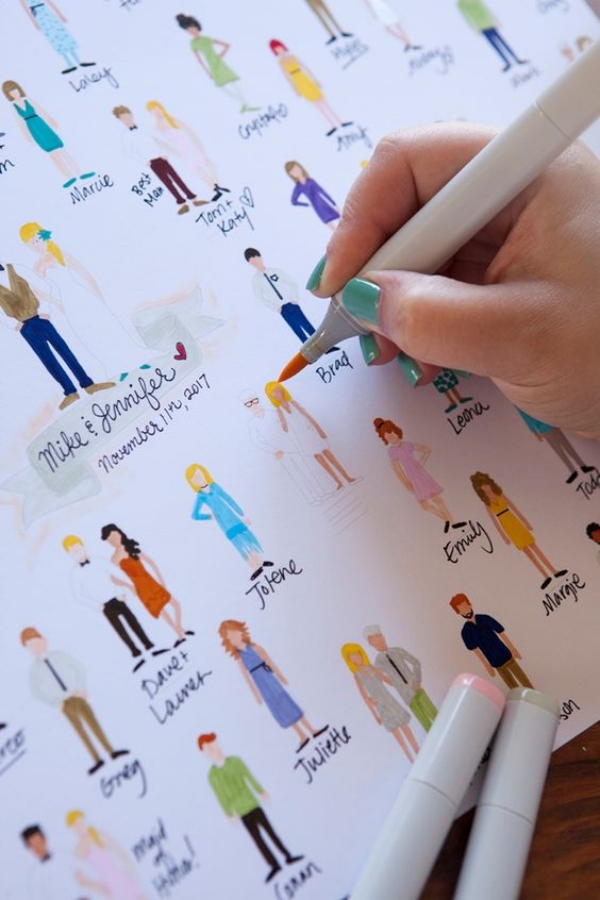 Why not ask your guests to do some drawing while enjoying the snacks at your wedding? Ask them to draw and depict the message that they want to give to both of you. Now words and hidden letter allowed. Just draw.
Involve The Guests In Some Big Decisions
This is by far the most creative wedding guest book ideas. Have a set of guided questions and let the guests give their best guesses. Questions like, when will we have our first baby? Let the guest write their own wish of when they would like to see you both have your first baby. You can have more questions on your honeymoon and who knows, you might as well find your holiday destination from one of those answers!
Build A Date Jar
From all those guests who are happily married, ask them for tips and suggestions of happy marriages. Let them write all those date wishes and fantasies that a couple should have even after they are married. Some naughty, some mature and true about life, some classy and some "experience-says" kinds of suggestions would not only be the perfect bunch of healthy advice to keep your married life lovely forever but also give a nice chance to every guests to speak their heart out.
Go The Old School Polaroid Style
Since you know who your guests are going to be, take prints of your best pictures with them in advance in the vintage Polaroid style and stick it in a scrap book with colorful tapes. Keep fancy colored pens besides. Let your guests search for their photo and write a message beside those pictures. And this is how you can immediately customize your guests' album with unique and emotionally touchy messages for you.
These were some of the latest wedding guest book ideas that I could think of. If you have done something creative in your wedding, why not let us know? Getting over all the problems and still having guts to take such difficult decisions make this marriage the most important event. Your wedding is a big day; so, make sure you cherish every small and big thing that happens in this journey. Happy Married Life!
Save