Deciphering the language of "Fashion" is not too easy unless you understand the rule of making it extraordinary. Now, when I say "extraordinary" I totally point towards the sexiness and perfection pour into an attire that makes it look just different. It is not the outfit, anyway, that brings up a noticeable different insisting people to just keep staring. But the style and the way you carry your chicks and curves and class matters! Being an It girl would know how to break a guy's heart and shout out "sexy" just by getting judged by her looks. And guess what; you won't lose your pocket weight to get in touch with stylist cause you can be one by grasping these Ways to Wear Your Ordinary Outfit.
Ways to Wear Your Ordinary Outfit
Styles to Rule Looks Button-Down Shirt
Yenna Rascala style it is! Make your collar stand and sleeves pushed just roughly for a badass fashionista appearance. And this will rock together with high waisted staples.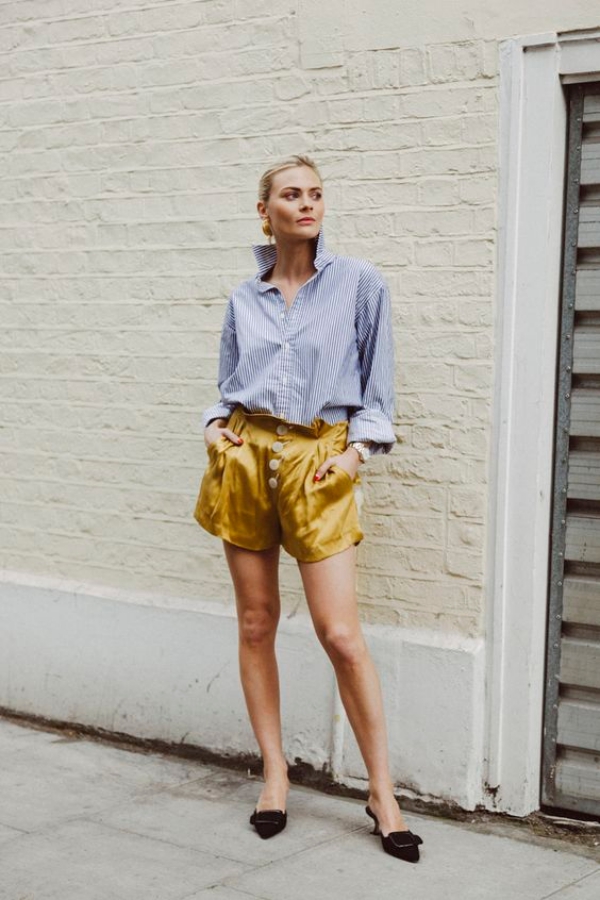 Layering is always helpful whenever it comes to pin down a button down shirt extraordinary instantly. Just grab any stunning classy looking sweater and layer it over your button down shirt with collars and handcuffs rolled over.
Knotting is always cool and a must try idea during summers that instantly give you a cropped look with stylish button down shirt. I often get naughty and grab my man's shirt as to wear it like a crop top along with my high waisted shorts and I literally love it.
Another ways to wear ordinary outfit and make it look super-sophisticated is just wrapping-your-shirt-around-your-waist away! This idea can really bring out one more layering idea with it and that is to simply layer your shirt over a casual tee or tank to have a decent professional look at work as well.
Fall Can Never Be Completed Without A Trench!
Just the trench. It is the style you might have seen innumerable ladies flaunting on Pinterest and social media by simply grabbing a waist belt to make a trench coat look like a dress itself.
Your casual work outfit appearance is totally incomplete without the trench coat during falls. May it be your pencil dress or skinny pants paired up with a casual shirt, layering them over with the trench coat always makes a statement.
Plus, a scarf, indeed a small fashion accessory but makes a lot of difference when not teamed up with an outfit especially during falls and winter. Your casual or professional attire when layered over with the trench coat will give it totally different look just by adding a scarf to your appearance.
Casual T-shirt and Tank? Oh! I got bored.
Well well, here comes your brother to rescue you from this most unwanted situation of getting bored with your most favourite outfits. The T-shirt that you love the most will always be your bestie to make you look one in the million. Just team it up with the glamorous pencil skirt and you are ready to go just by putting a high knot bun on your head.

Pull that pair of gladiator shoes out of your closet it's time to Rock them. Oh… and I forgot to ask you for that bohemian inspired shrug you haven't touched ever since you bought it. Casual T-shirt with your shrug and high waisted hot pants will do the talking of admiring your looks. And so does your gladiator footwear.
Who says Jeans Can't be Styled Differently?
It is not just the way of dressing up with jeans pants that makes a difference but also Choice of Colors that you matters in order to make your appearance extraordinary even with the most ordinary staples in your wardrobe.
Want an offbeat appearance at work? Then pair your simple striped button down shirt with red pants. Even neon inspiration works incredibly colored pants whenever your mood is to flaunt Street style.
Now that you got to know these forever-glamorous style and ideas to make the same old outfit keep looking new, you must stop being angry on your wardrobe and focus on noticing the way street stylers and fashion bloggers are flaunting it all these days. The key is to let the fashion come freely and know no boundations to give an amazing look.