I am sure we all have an unseen partition in our wardrobe, where our office wear is different from casual and party wear! This is not an intentional attempt that we make, but once our office life begins, it so happens that we start shopping outfits separately, keeping in mind different seasons and upcoming occasions! Agree?
Well, but what if I told you that I have good news – what if I bring to you some awesomely simple yet elegant Office Approved Outfits Which Works on Every Season? So, ladies! Fasten your seat belt and get ready to experience this journey of the ultimate shopping list that you must start working on immediately.
Office Approved Outfits Which Works on Every Season
Knee Length Skirts With A Cool Colored Blazer
Skirts can never ever disappoint. Be it simple plain colored skirts, floral ones or striped skirts, they go with every occasion and bring in elegance to the look. Pair it up with silk blouses for a casual day at work, and add on colored blazers for those meeting days.
Get Denims To Enter Your Office Approved Outfit
If your style it right, denims can become one of those Office Approved Outfits Which Works on Every Season! But, choose the color of the denim very carefully – straight cut, dark blue denims which are not skin fit, paired with matching blazer and shirts that contrast are a perfect office outfit.
The Classic White And Cream Combination
Can anything ever go wrong with the classics? This combination has been the oldest Office Approved Outfits Which Works on Every Season! You do not need to think twice before heading out with this outfit. If you want to add a little bit of more style to it, pair it up with high heels.
Printed Pants Paired With Cardigans
They are the latest trend when we talk about Office Approved Outfits Which Works on Every Season! You can opt for cropped prints or you can choose to go for the skin fit trousers of floral prints. Match them up with a plain white top and contrasting cardigans and you are all set!
Go Basics With The Plain Colored Knee Length Dresses
If you are trying enough to beat the Monday blues, and cannot think of anything new (wow they rhyme!), then hit the basics with the plain colored dresses and just put on your favorite cardigan or oversized jacket and look – a transformation!
Polka Dots Paired With Bright Colored Jackets
Heard of the proverb, 'old is gold' then baby polka dots are back in vogue! So pick up these prints and pair them up with bright colored jackets and you are all set to rock the day at work.
Go Pajamas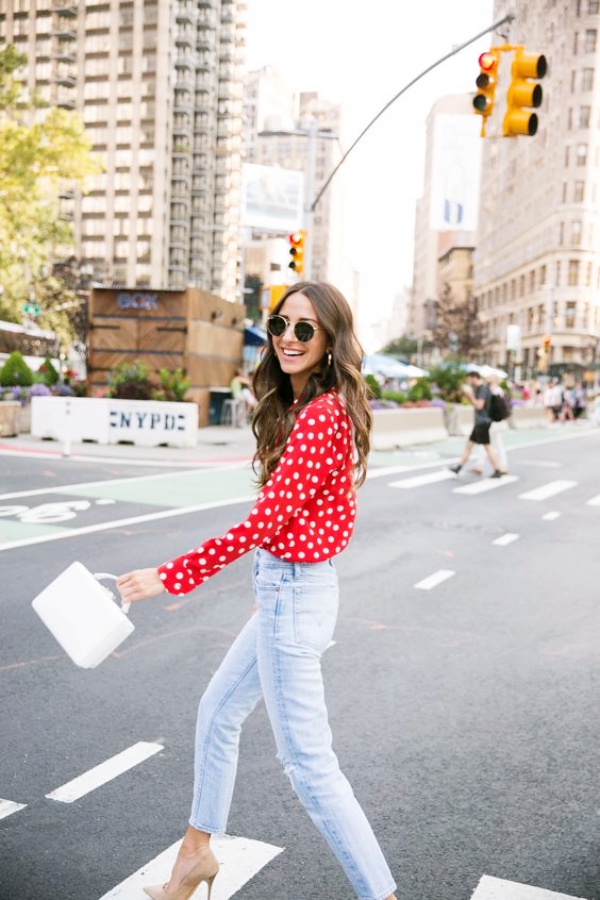 Black wide legged pants and a white top – not too hard to find in your wardrobe right? This is just one classic example of opting for Pajama bottoms as one of those stylish Office Approved Outfits Which Works on Every Season!
Trench Coats With Belts
Even after all the hours you spent in deciding what to wear, you feel you are under dressed, then hold on the thought of a complete change over! Before that, try to put on a trench coat on it, and accessorize it with a contrasting color belt, and see the transformation!
Go Bold With Bottoms
Choose bright and/or dark colors as bottoms and pair them up with a matching top. This is by far the easiest outfit idea for all those 'running late' days!
Invest In Printed And Striped Overcoats And Blazers
If you have a wardrobe filled with different kinds of trousers and tops, then it is time you revamp your blazers and overcoats collection too! Go simple yet stylish by wearing plain tops and bottoms with stylish printed and striped blazers!
So, now you all can unfasten your seat belts, because I know what you wish to do right now! Run to shop and have these cool Office Approved Outfits Which Works on Every Season!