Falling in love is one thing and cherishing that "Mrs." in front of your name is something that feels just incredible, isn't it? And why shouldn't it? You have jumped through several hurdles to win your love! Well then, how about flaunting Cute Mr. and Mrs. Tattoos for Perfect Couples close to your heart? Your cute little babies will be inspired with your love for your hubby to know how to love truly.
Perfect couples are never afraid of marking names of their partner and flaunting them off. In fact, these cute tattooing ideas make their will to get matching tattoos way stronger than it ever was. Trust me; you are going to give your love a new meaning with these exotic inking ideas.
Cute Mr. and Mrs. Tattoos for Perfect Couples
Crown Tattoos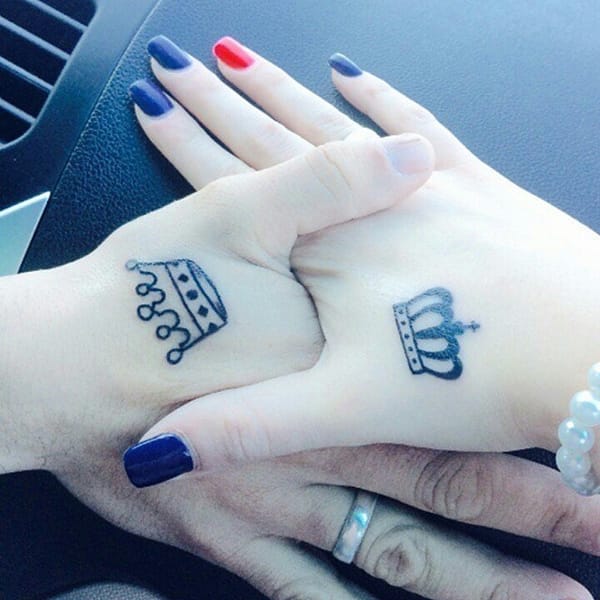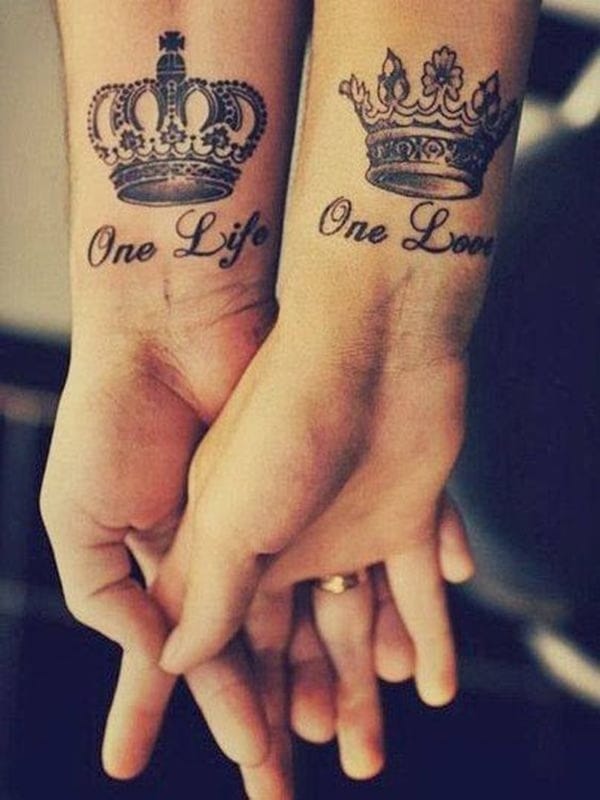 A girl owns a crown when she finally finds her king thereby giving her a perfect reason to ink crown. Love is a miracle that happens once in a lifetime giving you another reason to get this Cute Mr. and Mrs. Tattoos for Perfect Couples. Mostly, tattoo lovers get this matching idea inked on the palm or anywhere below elbow.
Disney Love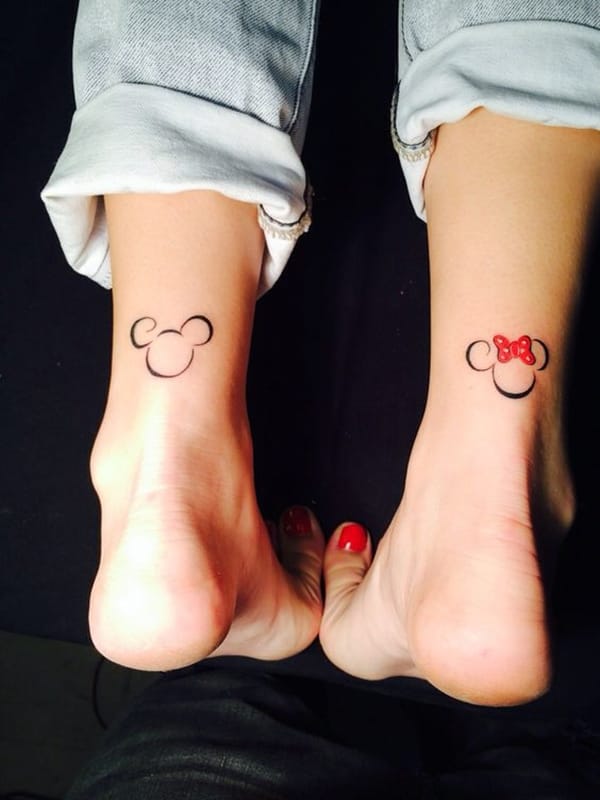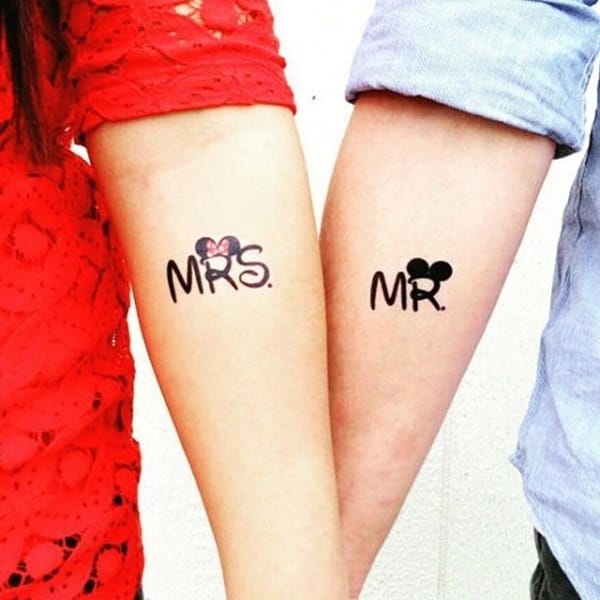 Another cute inspiration to true love is the forever-loved Disney world with it amazing characters including Mickey-Minnie and Pluto-Fifi. Add up bows and stars and some hint of colored inks will make this tattoo idea for couple much more fun.
King and Queen of Hearts!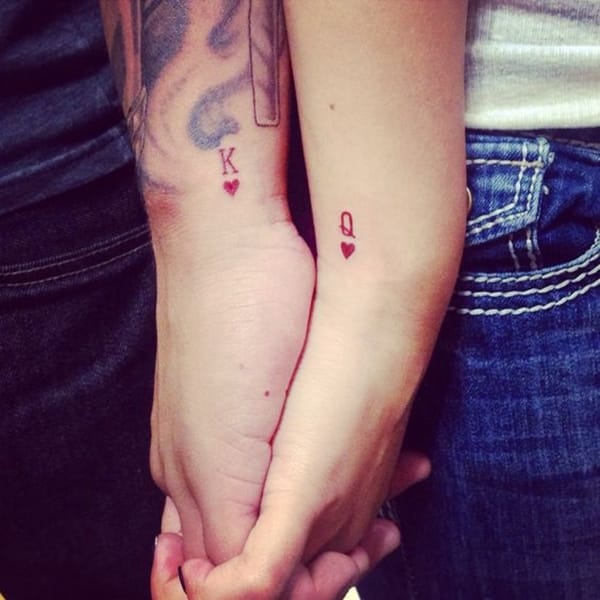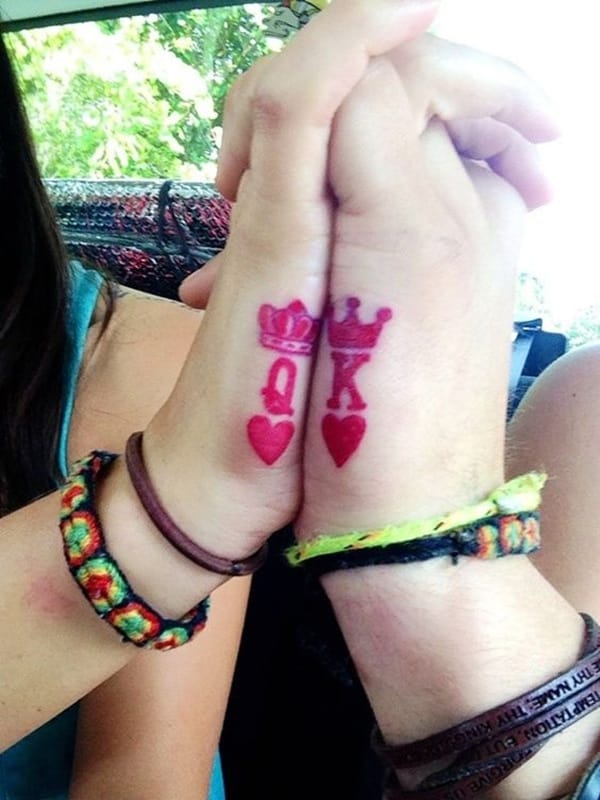 Haven't you two won hearts over one another? Then how are you not "The" king and queen of hearts? She has been ruling over your heart and you on hers. Come on dude, show off your lucky love and thank the almighty over thousands who haven't found their love of life yet. Choosing a place like wrist or fingers; where you can show that tattoo is an intelligent idea.
"You-are-my-arrow-I-am-your-bow" Tattoo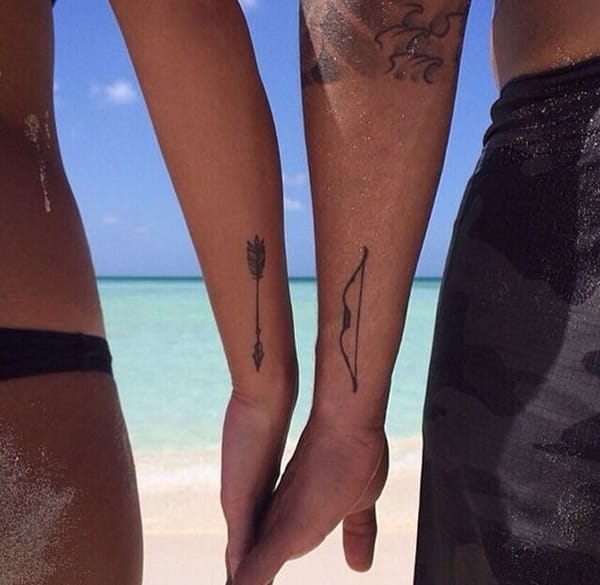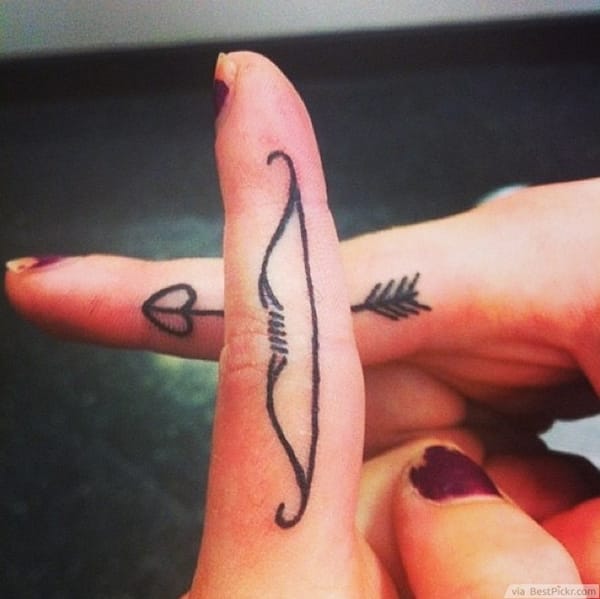 Neither the arrow nor the bow is complete without each other. And you two are, isn't it? You may also portray like you aimed an arrow at her heart. Introducing a Celtic artwork at the bow and the arrowhead will add up a new flavor. Adding up your partners name with a few hearts in red ink is again another great idea to get a Cute Mr. and Mrs. Tattoos for Perfect Couples.
Yin Yang Tattoo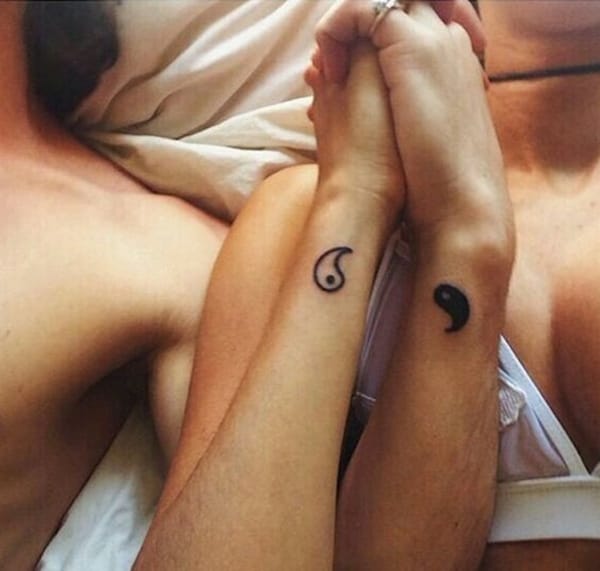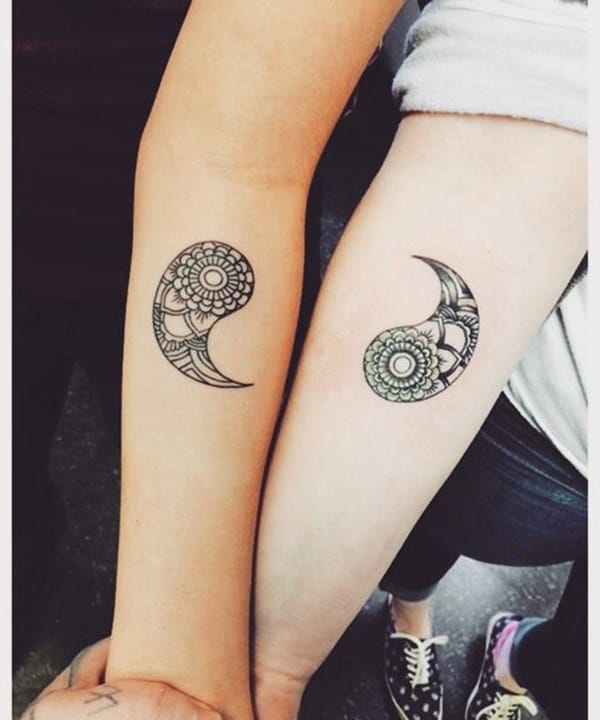 The energies from sun and the moon were combined to make your love story happen. And you might love praising them by tattooing and so remembering the worth of your relationship. How that tribal detailing with incredible symbols having significant meanings will make it look sexier is a different story but it has an all new importance making this tattoo worth it.
Love for Infinity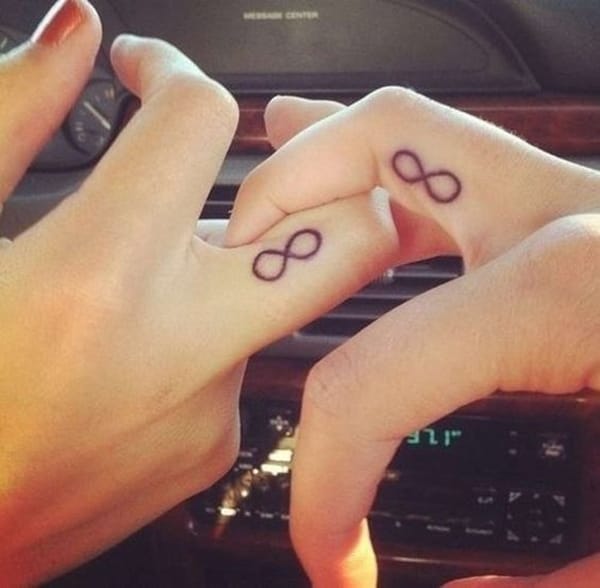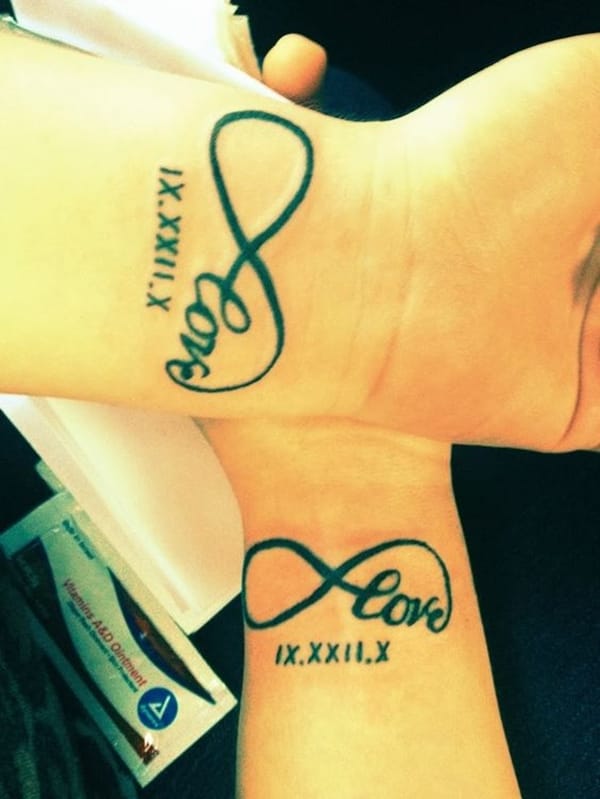 What does that tiny symbol for infinity peeping out of the finger implies? Indeed, the never ending love for your other significant. Then why to miss the chance to get it portrayed on your body as well? Creativity begins where you can think of adding your name with him in between the infinity tattoo.
Geometric Inspo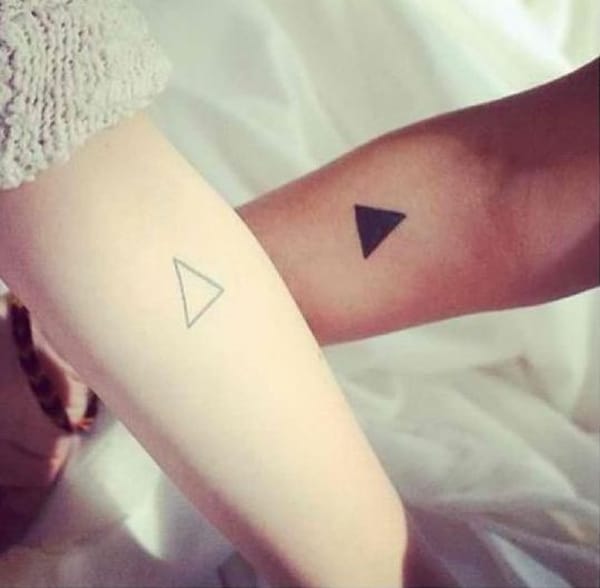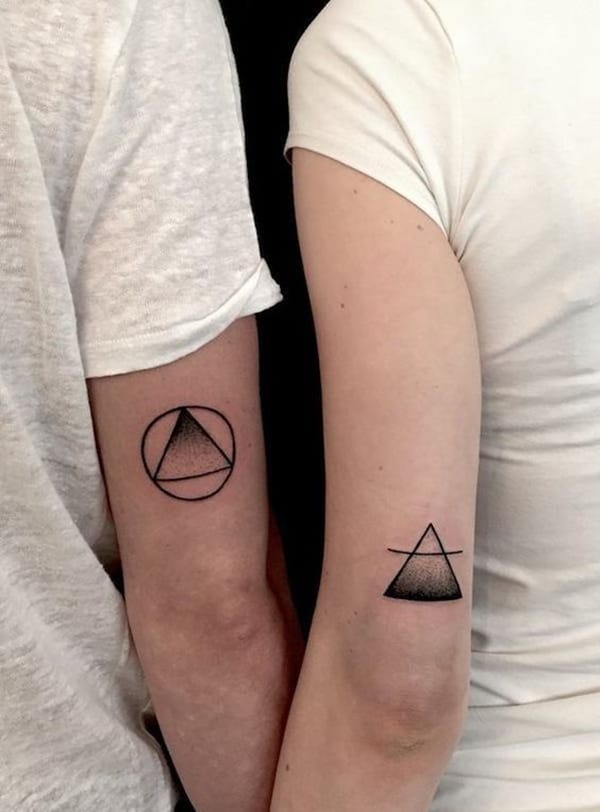 The symmetry is what this geometric tattoo represents and so makes it perfect for couples. The tattoo with one getting only border of the triangle and other getting only the ink within it explaining how both of you complete each other is a great idea to try. Inking triangle as the subset of a circle is another Cute Mr. and Mrs. Tattoos for Perfect Couples that you must give a nod.
Sun Moon for Perfect Mr&Mrs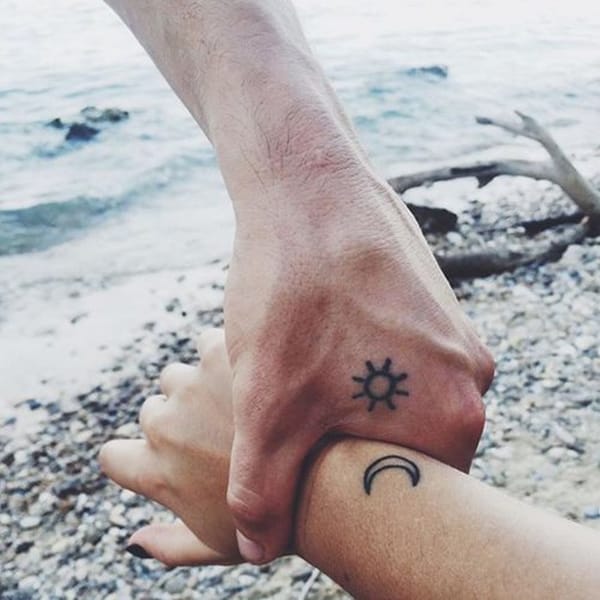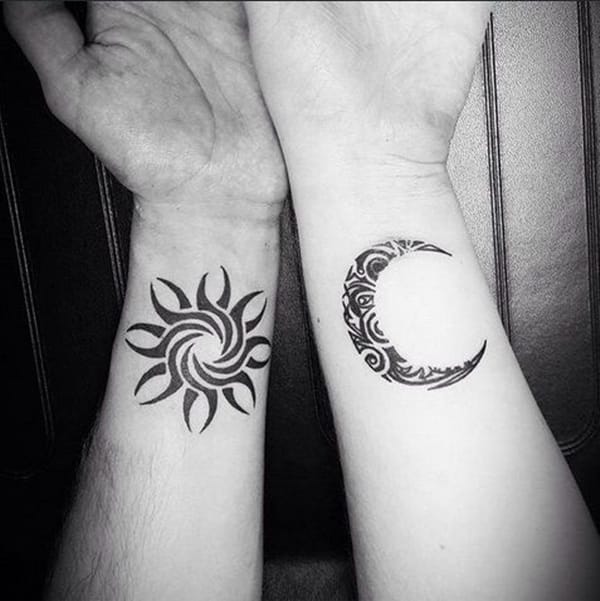 Celtic sun and moon with amazing symbols is a great thought to give a hit this year since it serves the motive of looking unique as well. The huge black dots and broad stripes and curves make this tattoo look eye catching. Though, the tiny sun and moon tattoo has its own unique charm that a perfect couple always falls for.
Watercolor tattoo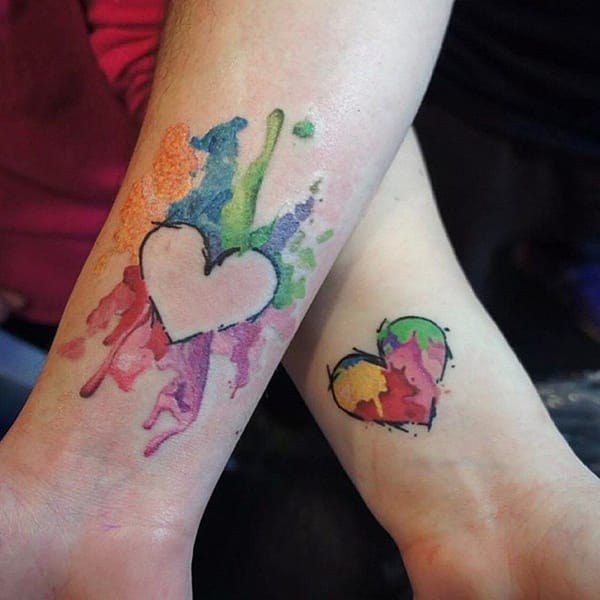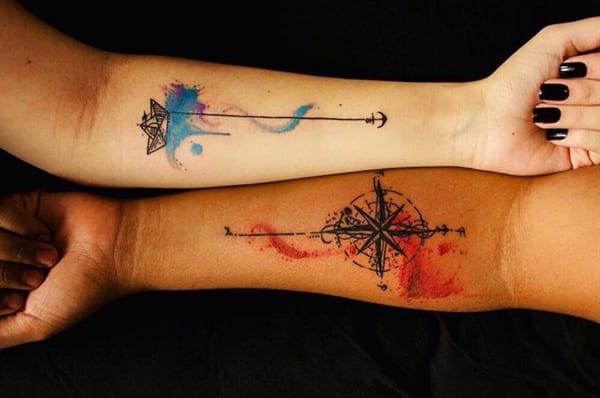 Who doesn't love colors and what a genius idea it becomes when you get a wonderful watercolor inspired tattoo idea? A heart with all colors split around thanks the heart that makes it fall on the right place. And an amazing idea strikes your mind to dedicate to your partner, isn't it?
Handsome and Beautiful Skull Tattoo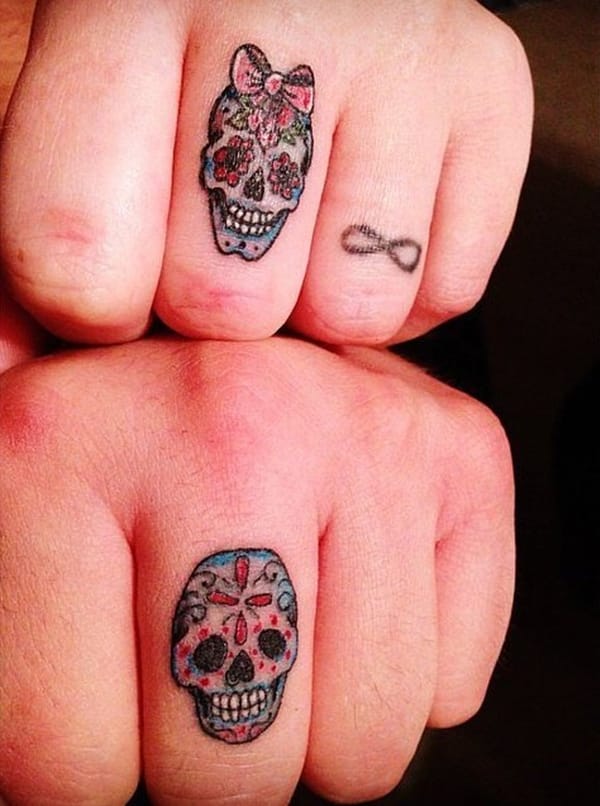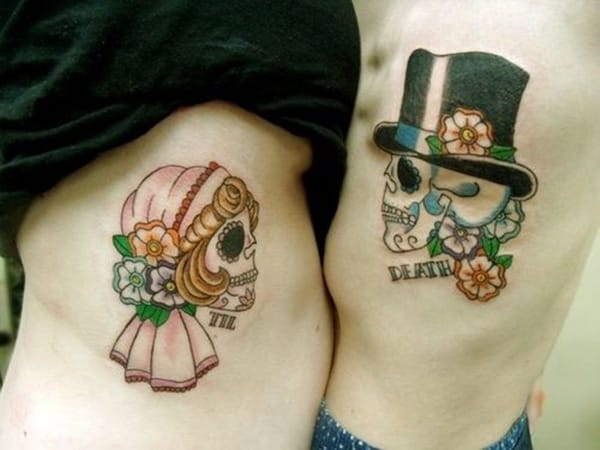 Power, strength and immortality are what this skull tattoo idea explains about your tattoo. Making your skull more expressive could be done by adding exotic colors. A cute bow with a charming smile at the cheekbone will make a lady skull beautiful while sexy beard will make man skull look handsome.
Wedding Date Tattoo Idea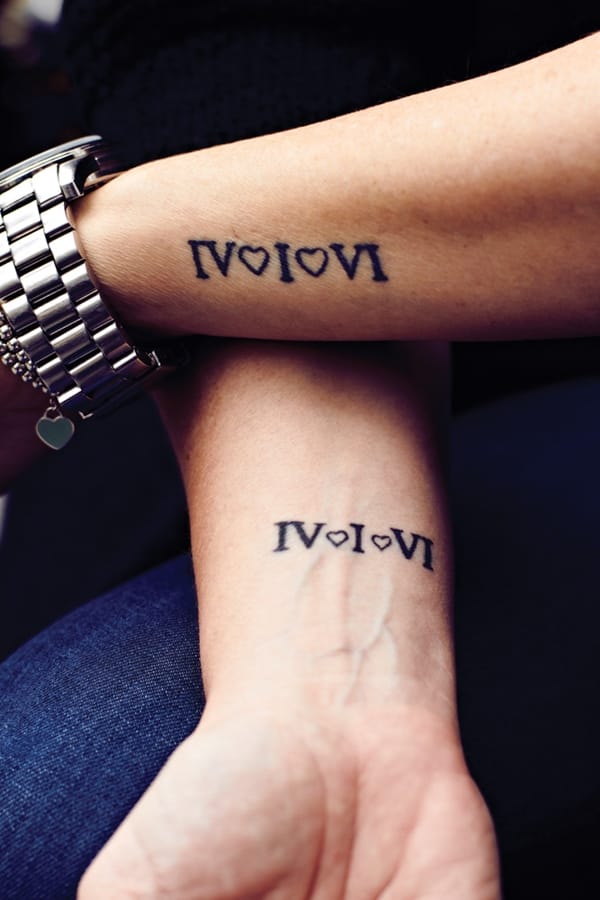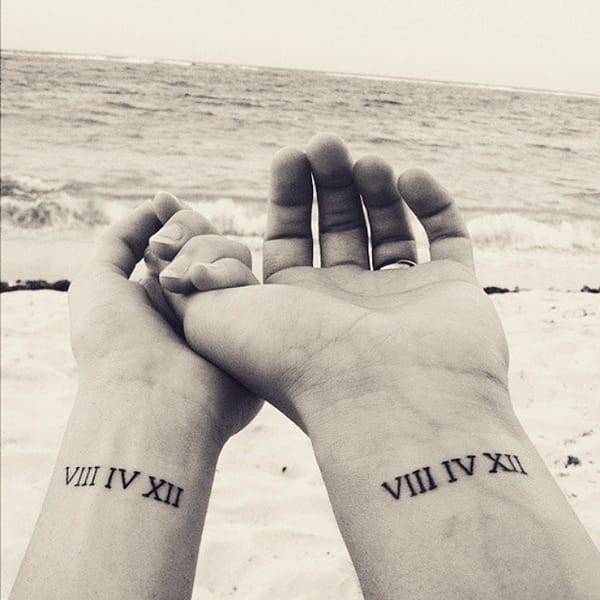 Remember that special day that told the world that you two cannot be drifted apart ever now? Your big day that made your special someone yours forever! Trust me; you will love imprinting that one most special day of your life since it gave a new and lovely life. People love using roman numerology since it look vintage and different thereby flaunting the roman stun as well.
Quotes Inspiration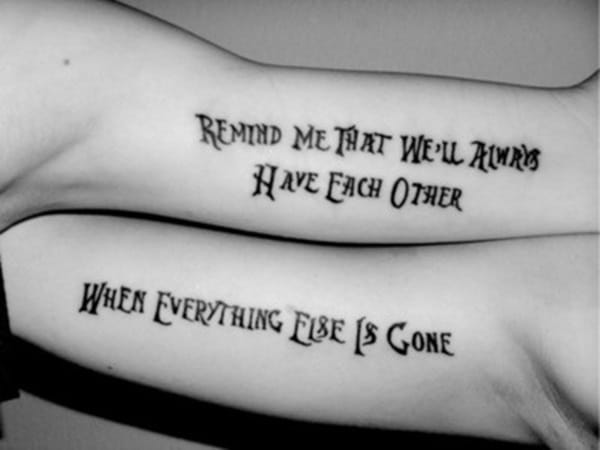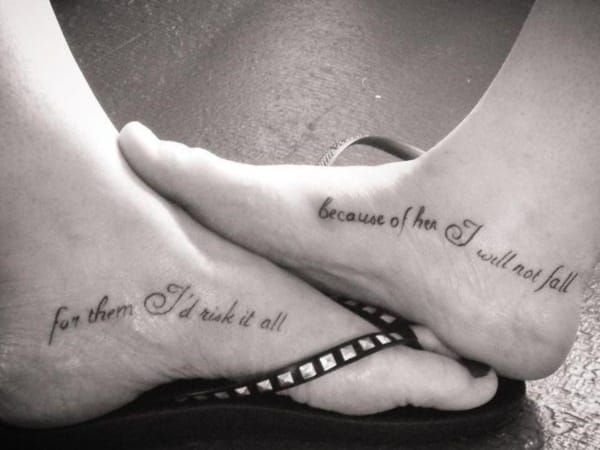 Text tattoos have the specialty of expressing as much meaning as one wants; expressing what even images fail to explain. Choose a quote that you feel was made just for you and get a not about sexy font and go on! This idea will definitely be yet another Cute Mr. and Mrs. Tattoos for Perfect Couples.
Key-to-my-Heart Tattoo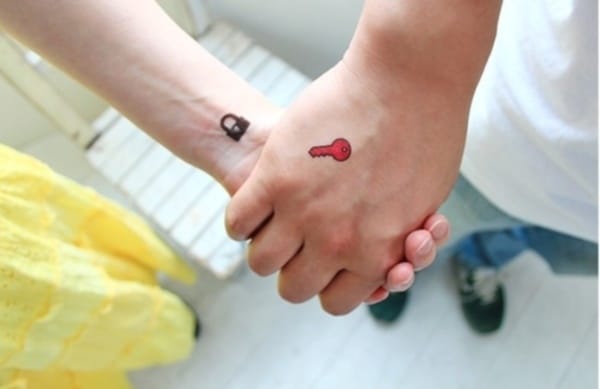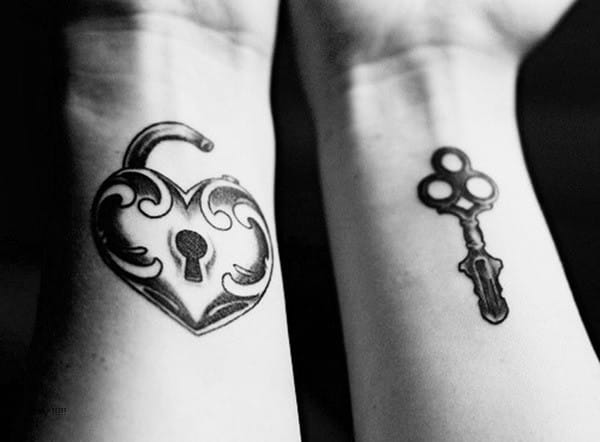 You have been protecting the treasure of your heart for I-don't-know how many years. You finally found someone who could be the key to your heart thereby loving the treasure of feelings within your heart. Agree? If yes, then here comes the most literal idea for you two that will redefine your love.
Portray Chic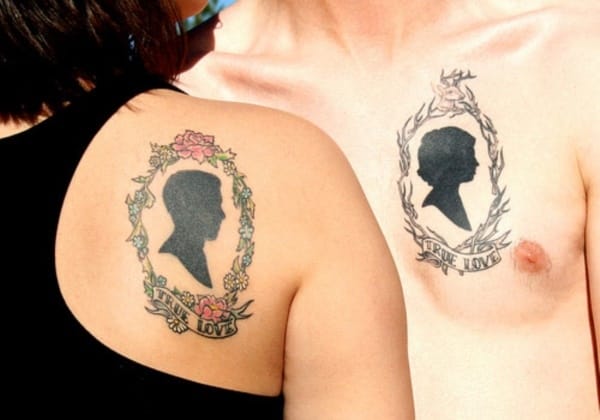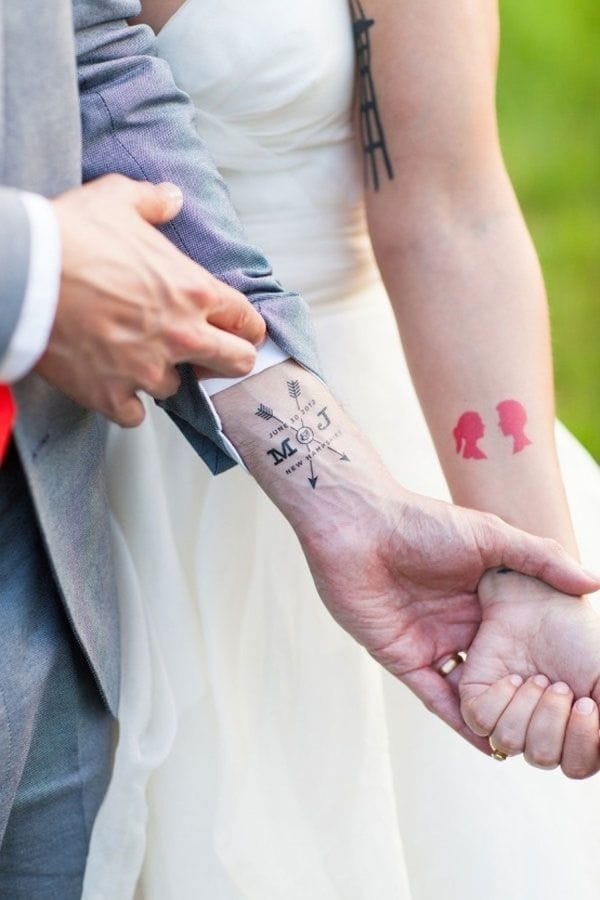 You portray him and he portrays you. So cute! The frame around the picture is another that has choice too. And about the placement, you may choose to portray the image where your heart is as too tell each other where their special someone resides. You may also place special dates along with the pictures as to make this Cute Mr. and Mrs. Tattoos for Perfect Couples more special.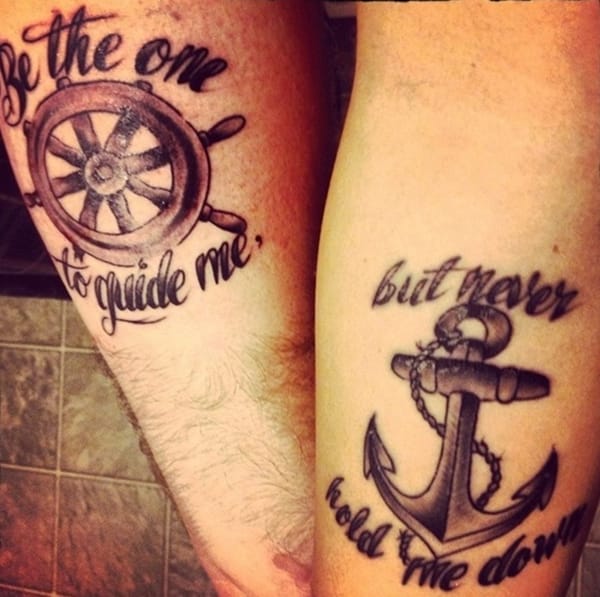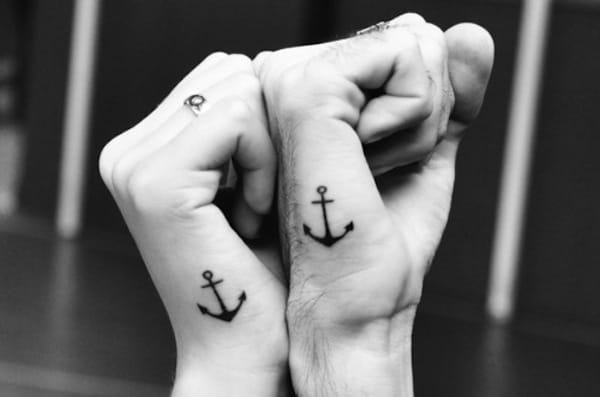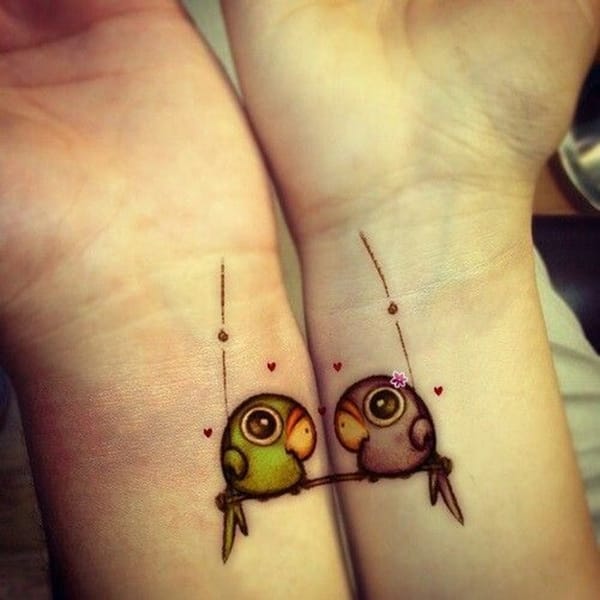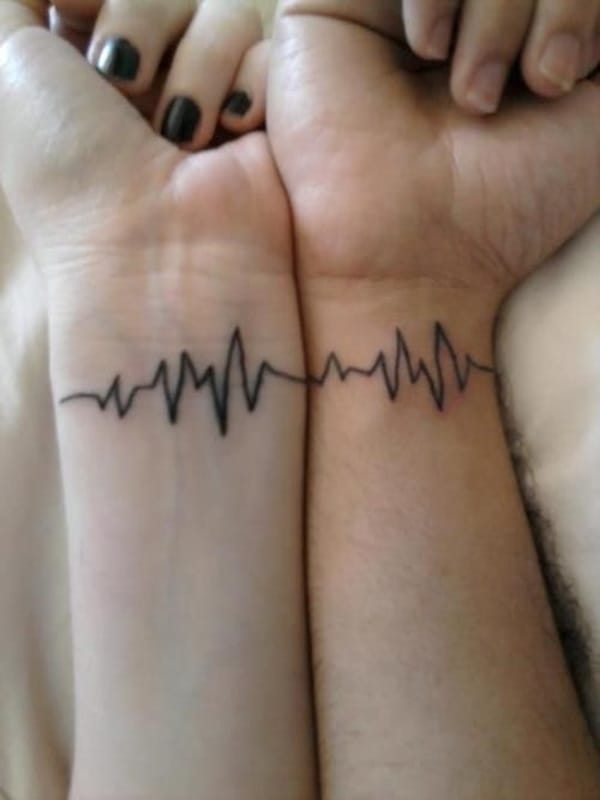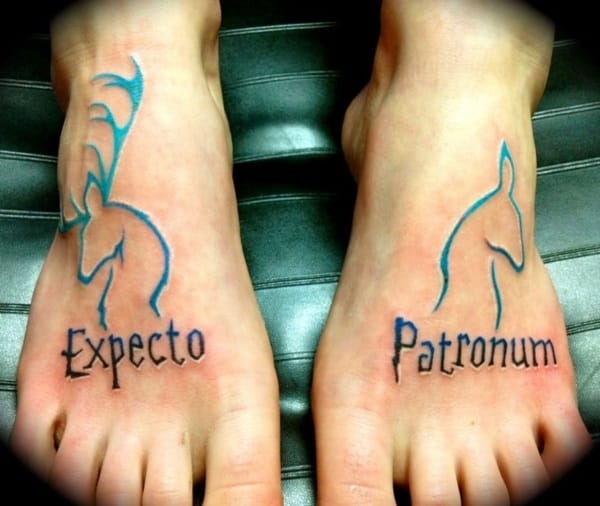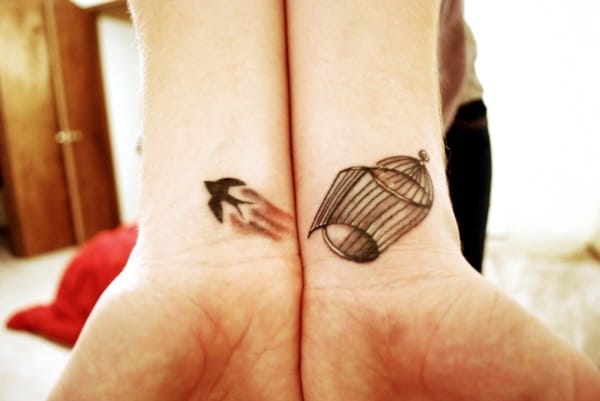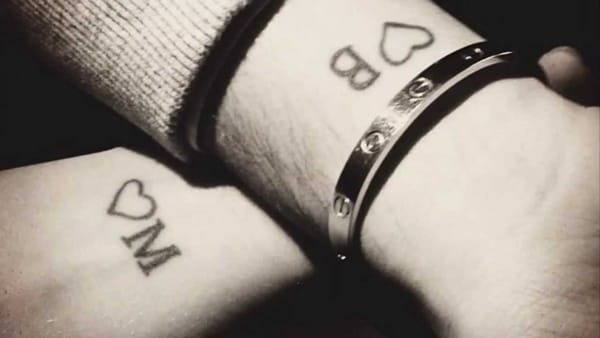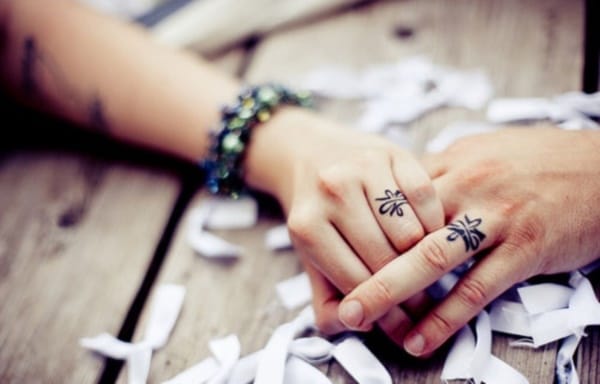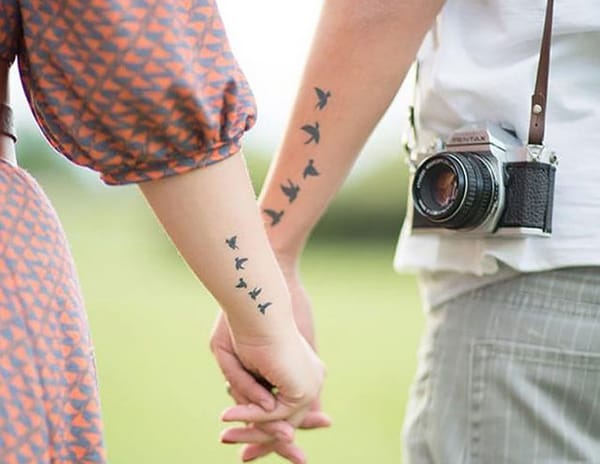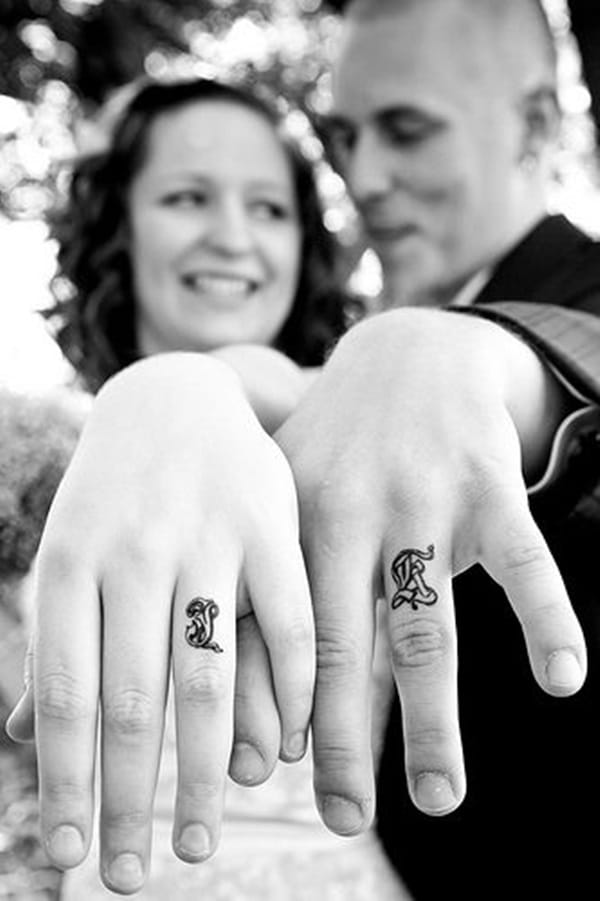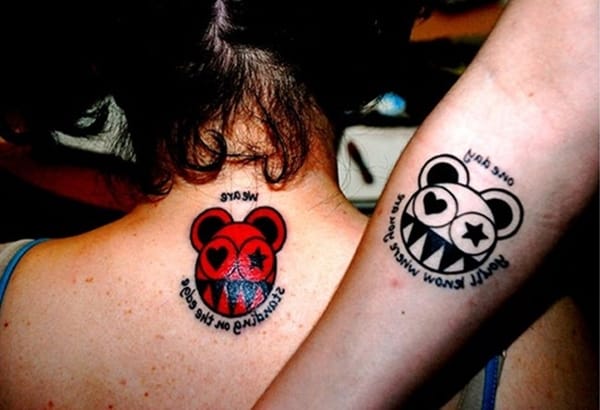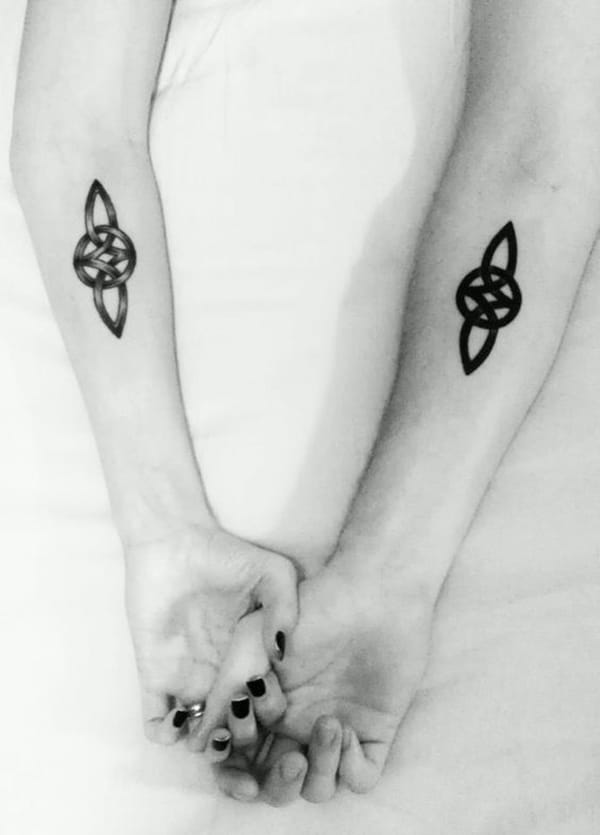 The beauty of love lies in being together which comes with the fun of flaunting the togetherness. These Cute Mr. and Mrs. Tattoos for Perfect Couples will make an incredible memory for lifetime that you will love cherishing till end. Moreover, your fashionista heart never has to die for it will walk hand in hand with your gorgeous tattoo design.