Tattooing is trending big and how. The reasons for getting oneself inked may vary yet the popularity of body art is presently akin to no less than a rage among both men and women! Basically, tattoos are symbolic of expressing the wearer's personality, likes, dislikes and so on. Strange enough, tattoos have different meanings in different cultures, so it is quite likely to find one society upholding one while the other detesting the same.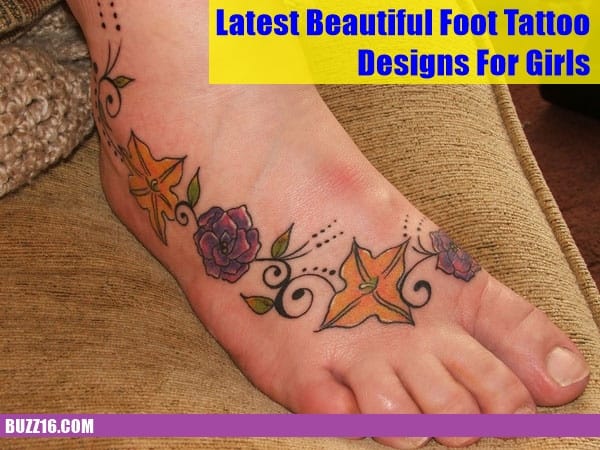 An angular tattoo is probably one of the least regretful things to get emblazoned on your body.
Beautiful Foot Tattoo Designs For Girls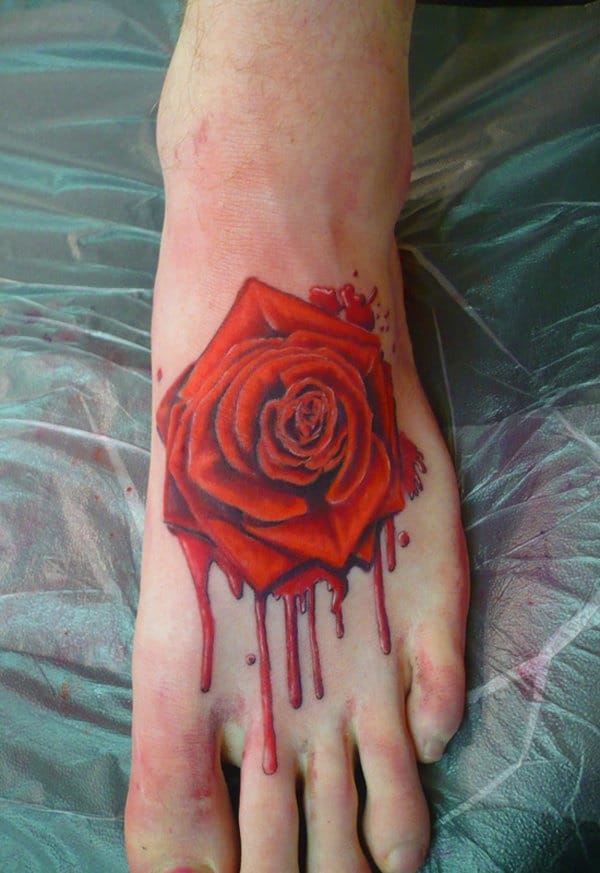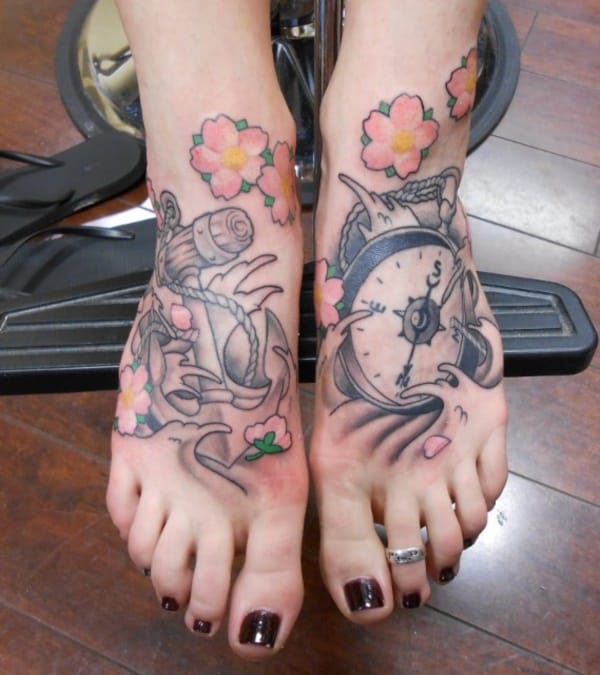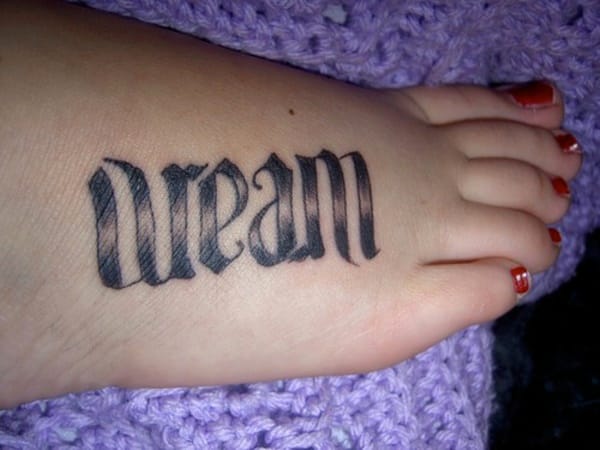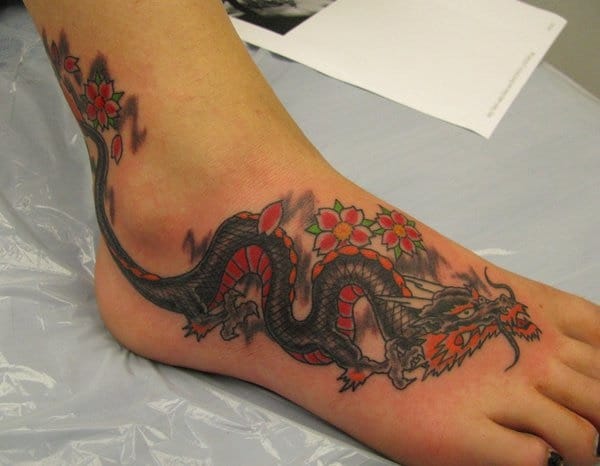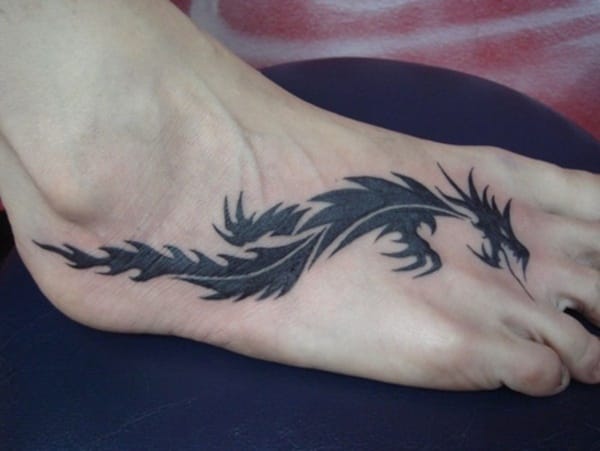 Women caught with the tattoo frenzy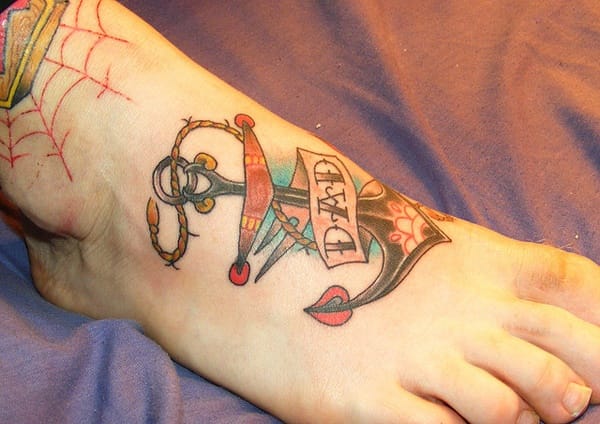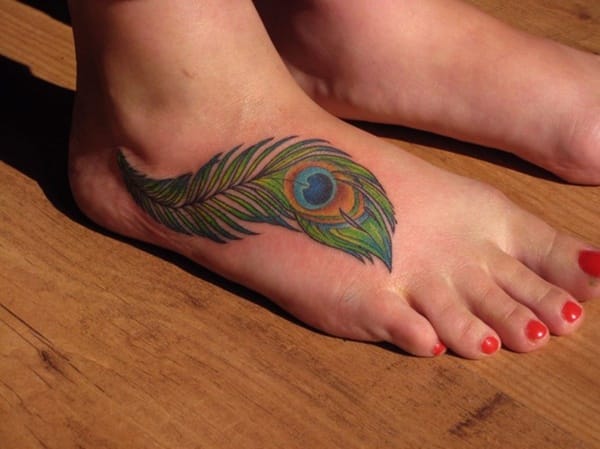 The trend was earlier found in men only. However, women are not far behind. Finding feminine and cute tattoos can be a little frustrating, given the wide array of choices. We recommend you browse online or visit your local tattoo studio or simply talk to a professional having considerable expertise in this field before making the plunge. Generally, females get their skin art on different parts of their body, common areas being ankle, foot, nape of the shoulder, behind the ears, wrist, arms, fingers and the like. However, there is something seductive about foot tattoo designs for women. Here we have listed some common and great foot tattoo designs for women. You are free to take your pick.
Possible designs
Tribal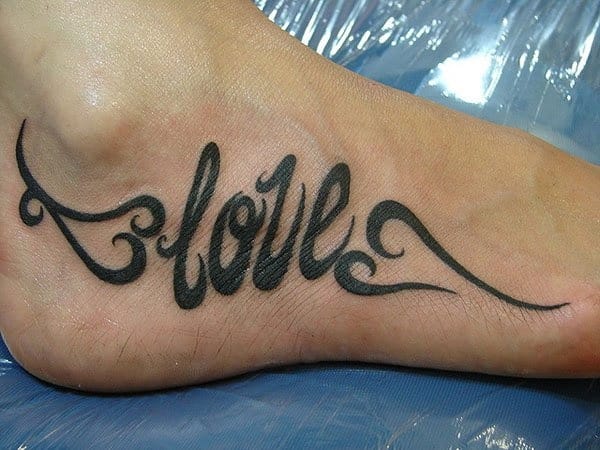 The domain of men is no longer confined to them. Even when females choose tribal designs, they are well aware of feminizing the same. A thin black line design can be juxtaposed with more swirls and colors to get a cute look. These designs often resemble bracelets wrapping around the ankle or top of the foot. But you can sport them anywhere you wish to.
Stars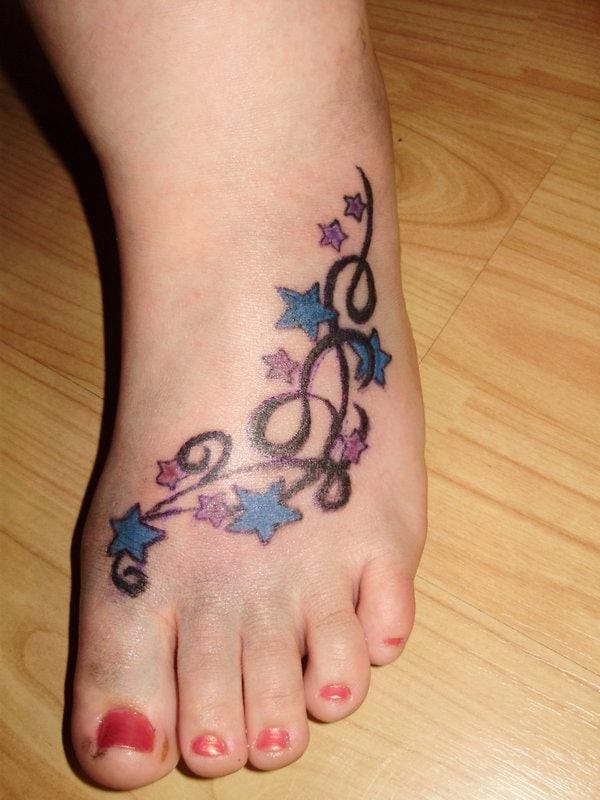 Representative of a certain mystic charm and beauty, star tattoos have always been a hot favorite with women. While you can always choose a single star (nautical star design) and get a shadowy effect if big is what you prefer, or simply sport a cluster of small stars around the feet. Cute we say!
Butterflies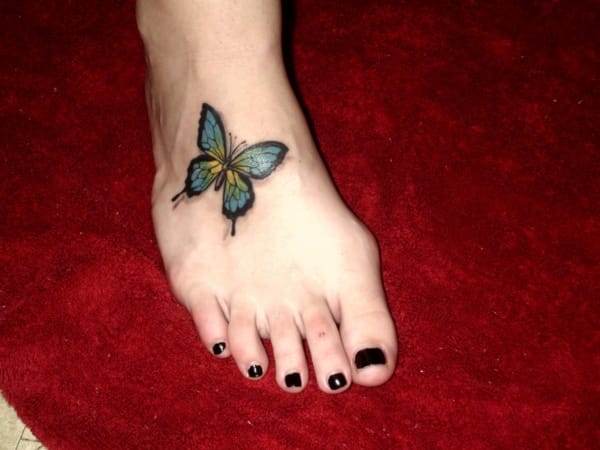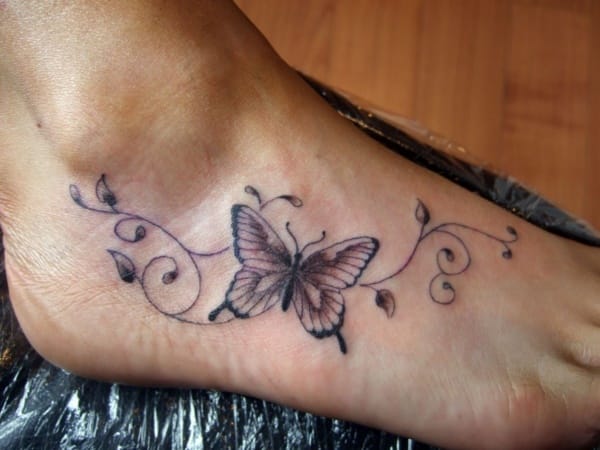 Girls love this design for the insect symbolizes beauty and grace. It is the metamorphosis stage that holds more significance for women. Sometimes stars or even birds are interspersed with butterflies to produce a splendid design.
Dragonflies and birds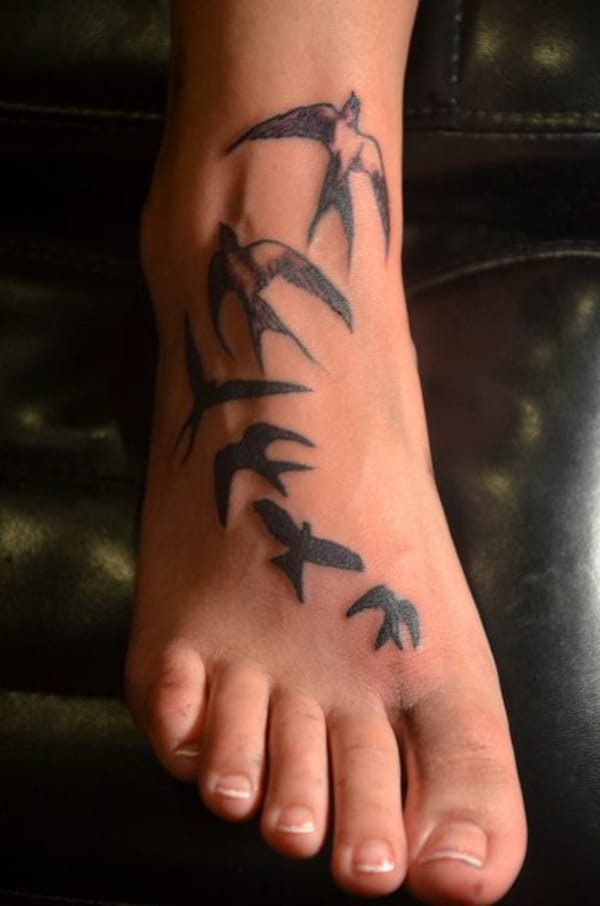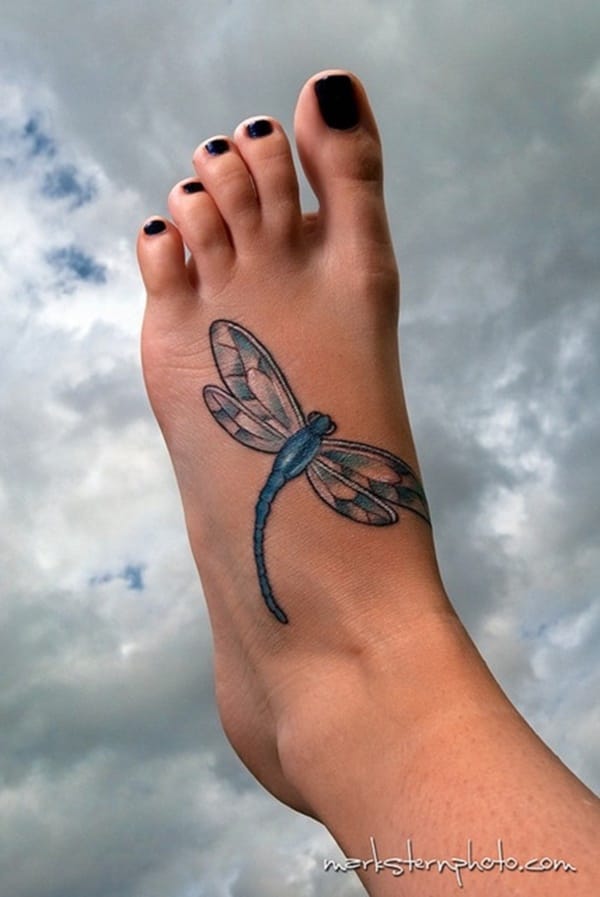 While dragons are patronized by men for the most part, dragonflies are tender and preferred by their female counterparts. Flying birds also make for a common design on the foot and carries an essence of freedom and tranquility.
Flowers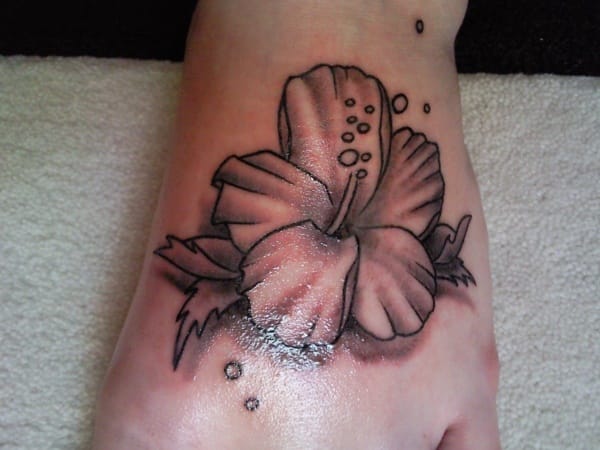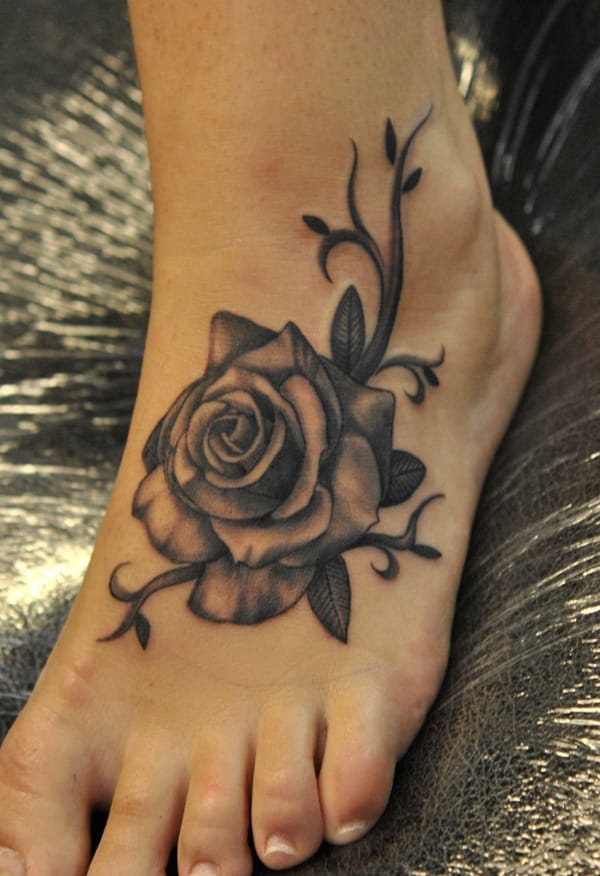 A bunch of flower s connected with a string or ribbon can look elegant and expressive. The ankle region is such that series of random flowers is akin to spreading cheer. However, many opt for a single flower as rose or lotus, with the former gaining more predominance. A black rose is alluring to many.
Cherry Blossoms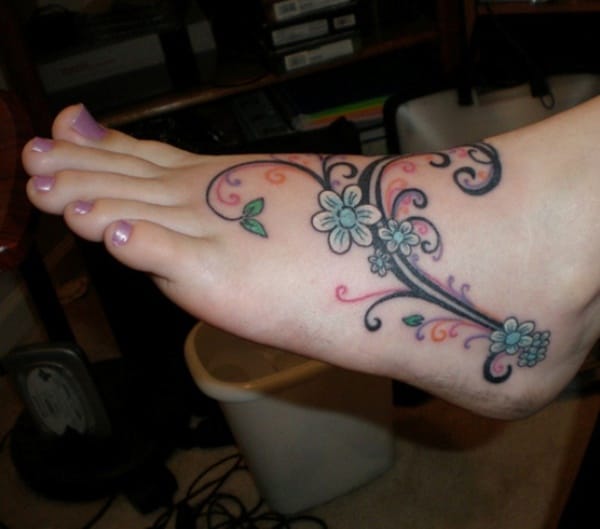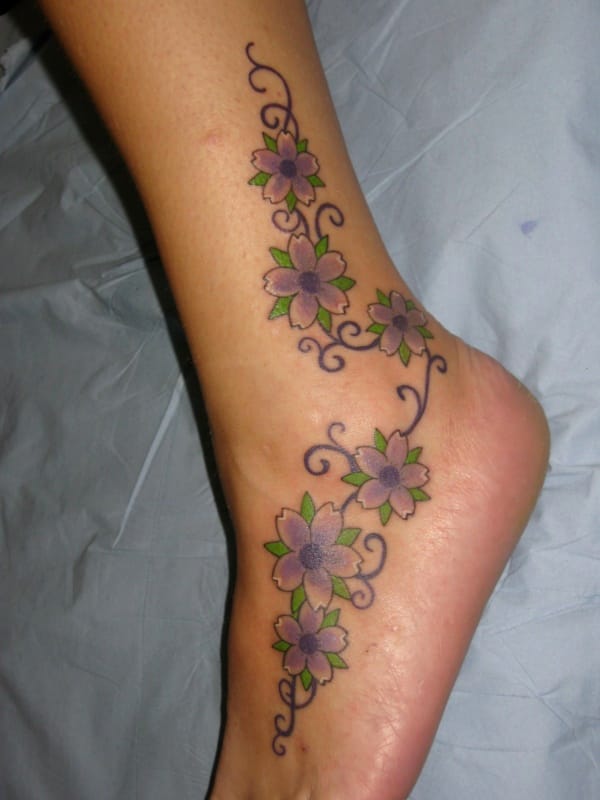 A great tattoo as this looks wonderful when done in a small location as wrist or foot or around the ankle. Though it's another form of a flower but the beauty and shortness of life that it's symbolic of is a reminder to loved ones that life should be lived to the fullest.
Fairies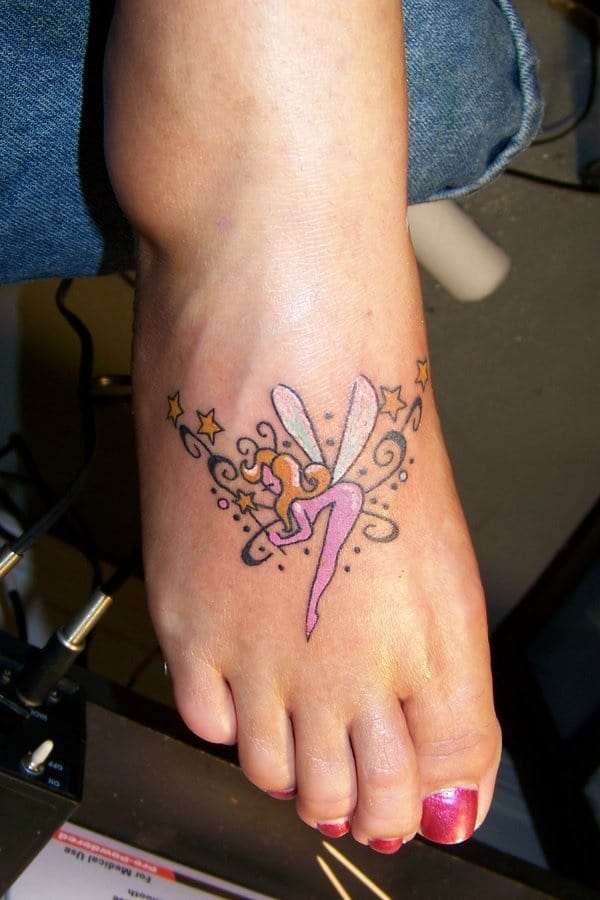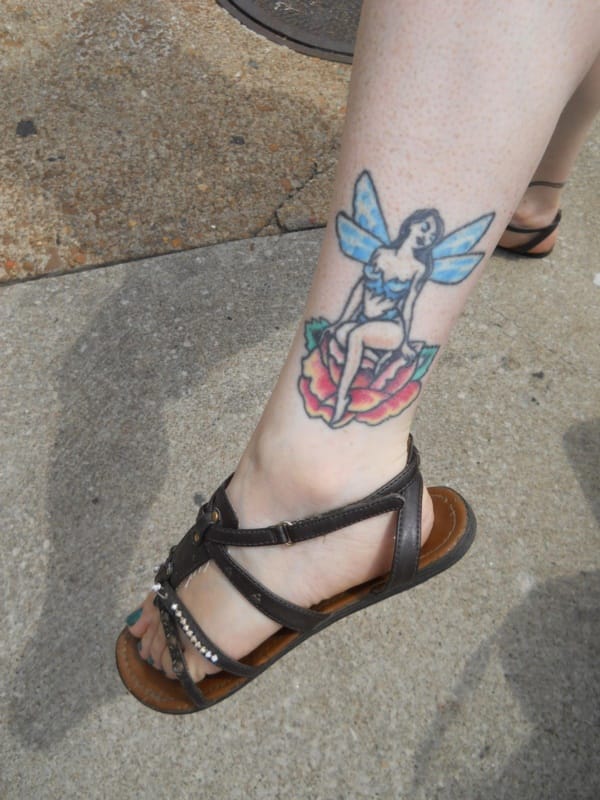 Fairies, angels and unicorns in sexy avatars or cartoony versions look glam and sweet at the same time. These can be made in a small region as foot so the designs can be positioned there quite well.
Heavenly bodies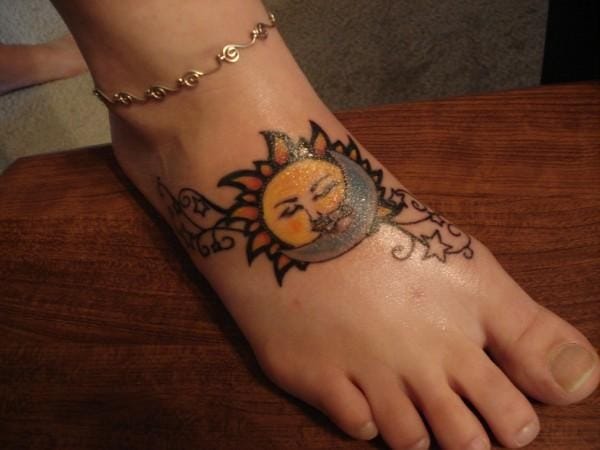 Tattoo patterns as sun, stars and other celestial bodies seem to make a comeback these days. Popular with men as well, the inner meaning of them carries a lot of weight. Varied interpretations can be drawn depending upon historical significance and intricate nature of the design.
Heart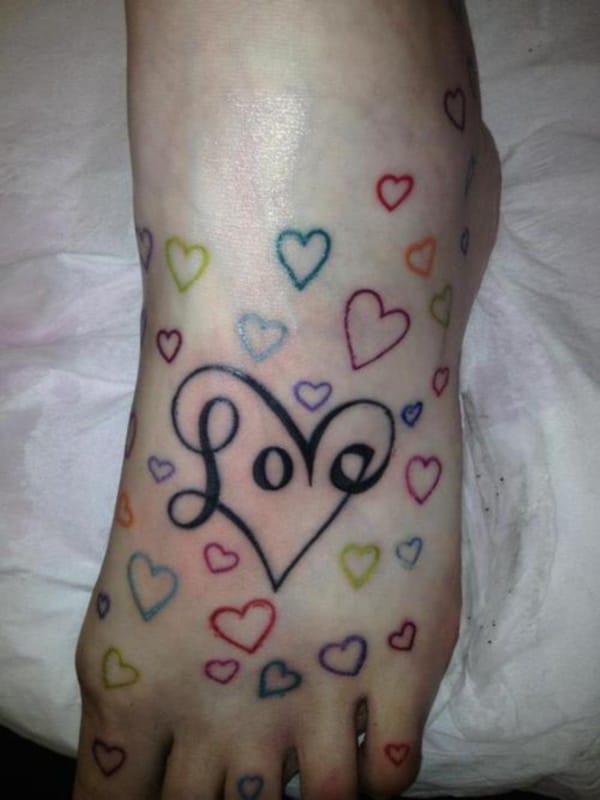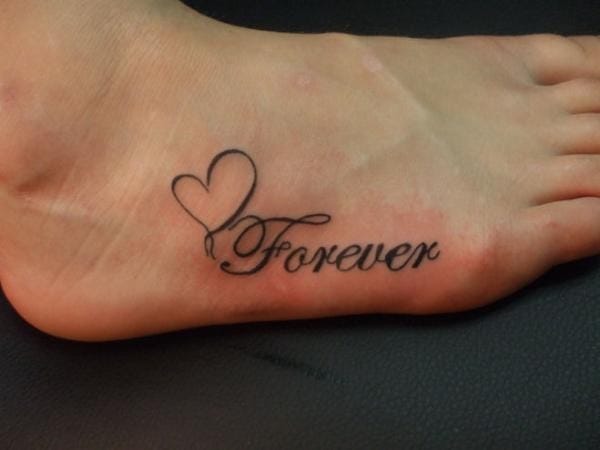 There is nothing better to woo girls than something lovey-dovey as a heart. A thousand words can be spoken by that one single heart shaped design. Alternatively, many prefer getting a small heart along with a message or a word that stands out.
Zodiac signs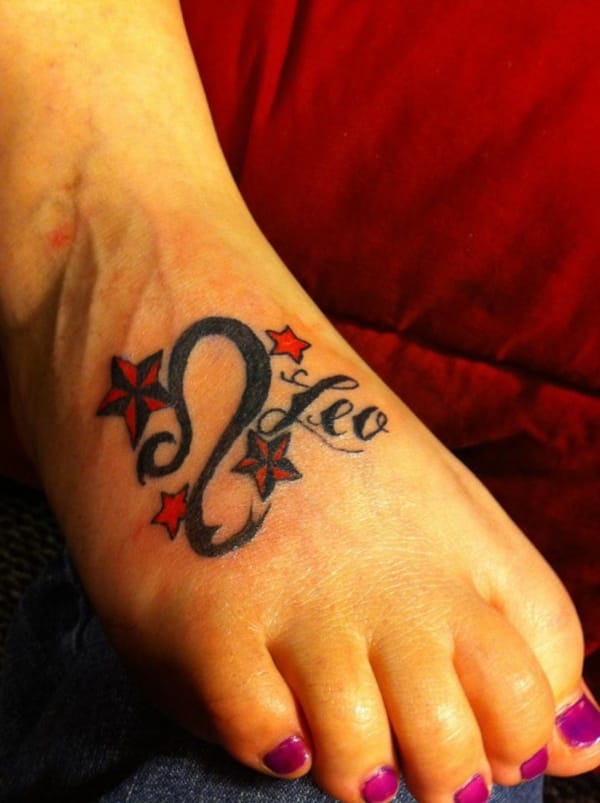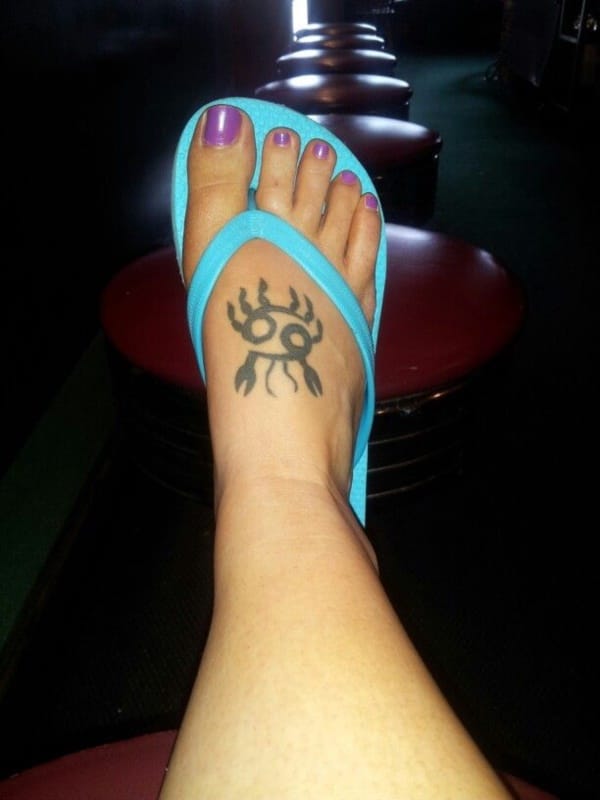 Inking one's zodiac sign is something like getting the birthmark on your body, but by choice! Whether you choose to get a small one near your foot or ankle or make it in a pronounced form, tattoo designs for girls as these are hot favorites.
Specific foot art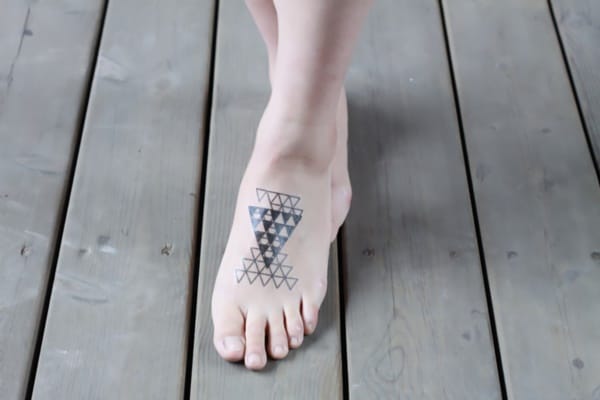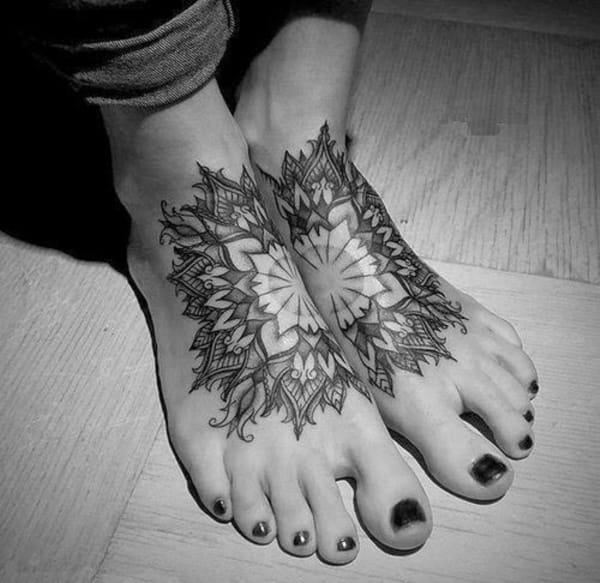 Elegant designs in geometric patterns or random art that brings out the creativity of the tattoo artist to the fore looks amazing on foot. Girls surely love sporting them.
Characters, letters and text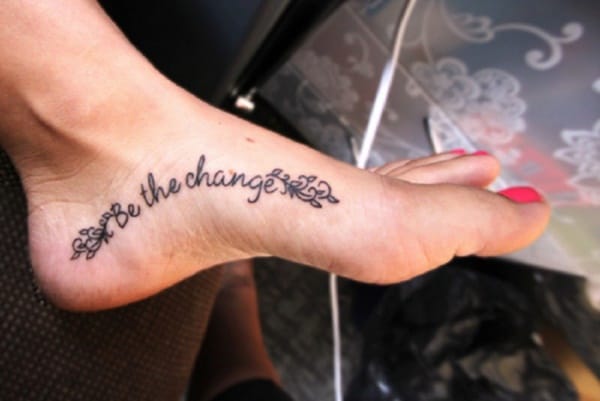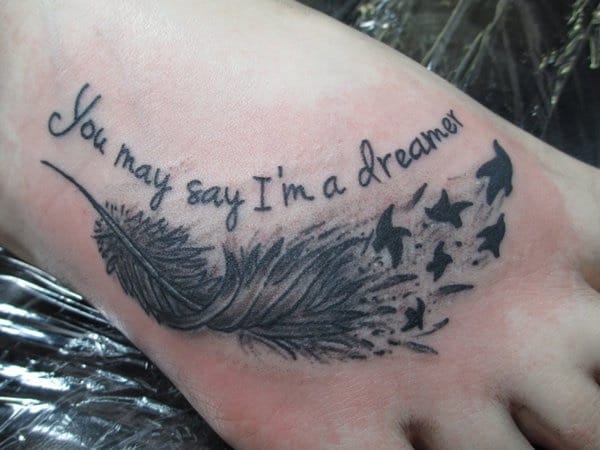 Characters have specific meanings so exercise caution before inking yourself with them. Sometimes, it is a better idea to get a specific letter or your name translated in other languages as Japanese, Chinese, Russian, Arabic and so on. To convey your life's motto or favorite line, texts look amazing on foot, toe fingers and ankle region.
Few things to keep in mind before getting drilled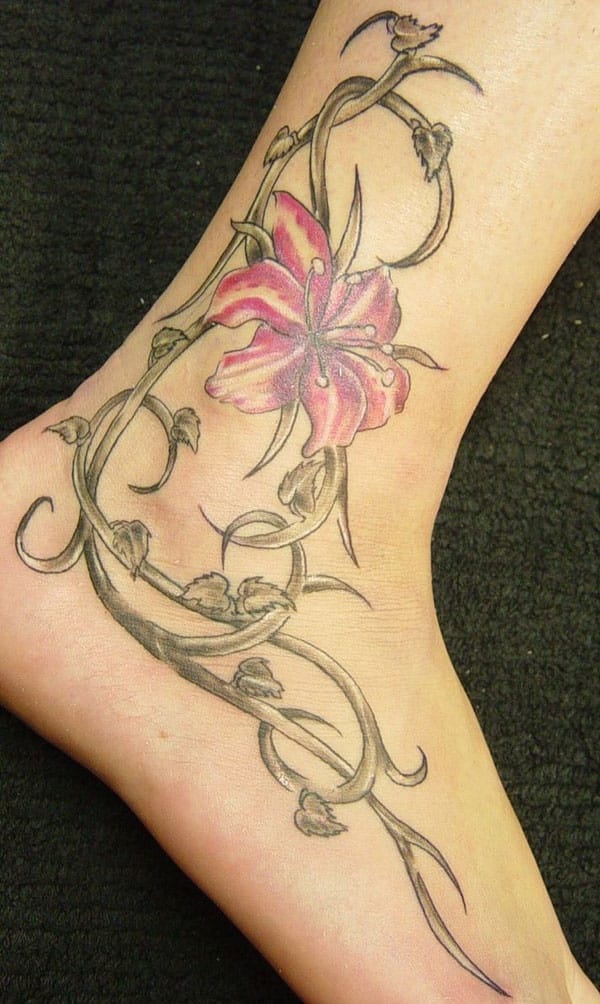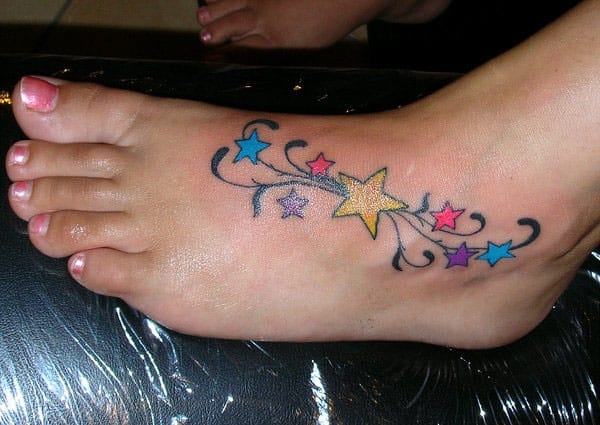 Surely, tattooing has its own charm. What must be remembered is that there is an array of beautiful foot tattoo designs for girls to choose from but much of it depends on your clothing sense, personality, work and lifestyle. Also, not everything is meant for everyone. So keep researching on the best ones and discuss with your tattoo artist to keep that permanent mark glowing. Finger tattoos are rendered in the style of simplicity and minimalism. They are cute while meaningful.