Hello Girls! The fall season is just round the street. Have you already set your wardrobe accordingly? I know! I know, we girls can never be all pepped up for any upcoming fashion styling but hang on! What if we ask you NOT to pack up your skirts already? Yes, you have read it absolutely right! Skirt is one of the all time outfits for girls; they can never be out of fashion. There are huge varieties of skirts available these days. No matter what season it is, you can always wear a skirt and be ready with a stunning look. So gear up peeps, because you are going to drool over these awesome Fall Outfits With Skirts that will make you stand out in the crowd.
Fall Outfits With Skirts
Short Skirt With Thigh High Boots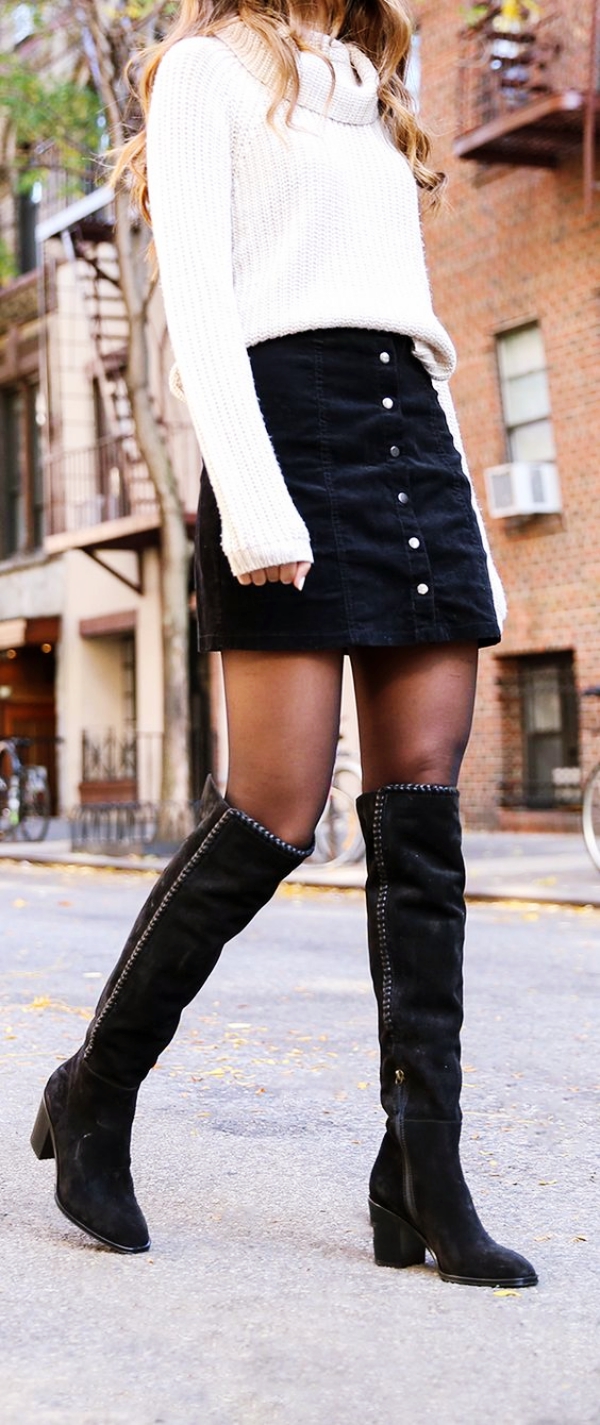 Wear a short skirt with classy thigh high boots, and go trending on instagram. Thigh high boots will give you a glamorous look.
Knee Length Slit Skirt With Blazer
Skirts are the best formal outfit for a business meet. Wearing a knee length slit skirt with a fitted shirt, blazer and formal footwear will definitely help you leave a long lasting impression on your client or seniors.
Straight Midi Skirt
Skirts are not only for wearing in summer, but you can wear them in winters and can maintain the warmth for your body. Wear a straight midi skirt with ankle length boots and be the glamour queen for Instagram.
High Waist Denim Skirt

If you are a cool-dude type then this is the right fall outfits with skirts for you. Wear a high waist denim skirt with a tucked in a top and sneaker shoes with long socks and you are ready to rock in a skirt, even in the season of fall.
Check Skirt
If you wear a printed check skirt and a full sleeves shirt tucked in, you are all set to put all Instagram fashion pages on fire. Go for wearing a stocking and knee length boot with it, now you are ready to be a fashion idol for your followers on instagram. Because this is one the best fall outfits with skirts.
Skirt With A Long Coat
Wear a leather mini skirt with black stockings, short boots and a long coat; you are going to stand out in the crowd for this stunning look. This is a really trending fall outfits with skirts on Instagram.
Long Skirt With A Cap
If you think your legs are too skinny or too fat, then you can wear a long skirt, because they look elegant and pretty. Try wearing a long skirt with a top, a jacket and a cap. This will not only add a star to your personality, but will also keep you warm.
Skirt With A Cardigan
Skirts can be worn with any and everything. Wear a mini skirt with a nice bright color cardigan, with sneaker shoes, as this is one of the ongoing fall outfits with skirts, for girls.
Short Skirt With Leather Jacket
Are you the one, with a rock star personality? Well this is the right fall outfits with skirts for you. Try wearing a short skirt with a crop top, a leather jacket and short boots. This outfit will add up a star to your rock star appearance and will give you a stunning look.
Pleated Skirt With Muffler
Pleated skirts are never out of fashion. Go out, wearing a pleated skirt with a tucked-in, warm full sleeves top and a muffler. This will give you a stunning appearance and is one of the most adorable and alluring fall outfits with skirts.
Mentioned above are the various fall outfits with skirts that a girl can put on. Skirts are never out of fashion, even in fall and can go well for any occasion. There are a number of ways for carrying a skirt and all of these will make you stand out in crowd, with a stunning and beautiful appearance.
Save