Fascinated by the Most Beautiful Castles Around The World in Harry Potter, Lord of the Rings, Game of Thrones, Frozen and Cinderella? Do you ever imagine yourself in that era? The era with no mobile phones and Internet, but a beautiful castle and pretty panoramas. Earlier in time, castles were a true domain; they were built for the kings and queens, with a purpose to protect them and their wealth from their enemies.
Castles were usually built on a hilltop or with high walls or surrounded by water from all side with the sole purpose of safety.
Castles aren't much popular these days, as compared to their popularity in medieval era. There is this ongoing trend now days for having a destination wedding. People tend to lean for places, on the countryside with big and beautiful castles, as the destination for their wedding. Just like I love Italy!
Most Beautiful Castles Around The World
Mont Saint Michel, France 
This is considered to be the most beautiful castle of all times. And why not, this is situated in France, the country of love and romance. This is an unforgettable and mesmerizing view and is listed in UNESCO's World Heritage Site.
Conway Castle, Wales
This is a castle, which will make you appreciate its builders. This castle will give you a beautiful view from the top. It is covered with mountains and sea that makes it a even more beautiful. It is not just the outside of the castle that will make you admire it, but also the captivating interior of the castle.
Neuschwanstein Castle, Germany
From 1886 to 2013, this castle had 60 million visitors, which speaks for how unique and beautiful this castle might have been. This castle is made of limestone, which grants it with a royal and 'fairy tale' like appearance.
Prague Castle, Prague
This is one of the most beautiful castles of the world. Being the oldest and one of the largest castles in the world, it will make you wonder about the manpower that must have been put in, for building this giant castle.
Miranda Castle, Belgium
This castle is a paradise for those who have a passion for photography. The castle provides you with a captivating view that will force you to revisit. This is also the right place for those who are interested in to visit haunted places.
Alcazar of Segovia, Spain
This is one of the most incredible castles from around the world. It is also said that this castle influenced Walt Disney, to design Cinderella's castle in the Walt Disney World. This is another 'fairytale like castle', which has a mesmerizing appearance.
Osaka Castle, Japan
Japan has its own style of architecture, alluring and pleasing. The castle was built in 1931 and has 5 tires on outside and 8 stories on inside, which makes it even more interesting. It is one of the most famous castles of Japan and one of the most beautiful castles from around the world.
Kilkenny Castle, Ireland
This is a beautiful castle built in 12th century and restored in 1830's. The castle has a really interesting history, for which you need to visit it at least once.
Bodiam Castle, England.
This is a castle that was built in 1385, to defend the area from the French people. The castle has a various chambers built in for secret defensive purposes.
Hohensalzburg Castle, Austria 
Austria is a beautiful place to visit and this castle is like cherry on the top. It is one of the largest castles of Europe and is situated at an altitude of 506m. This castle was used as a prison during World War I.
Peleș Castle, Romania
This castle is considered to be a masterpiece in Germany. This castle has a history of projecting the first movie in 1906, in the castle's theater room.
Malbork Castle, Poland
This is a classic castle and is world's largest brick Gothic castle. The castle and its museum were listed in the UNESCO's World Heritage Sites in 1997. The castle is really big and beautiful.
Corfe Castle, Dorset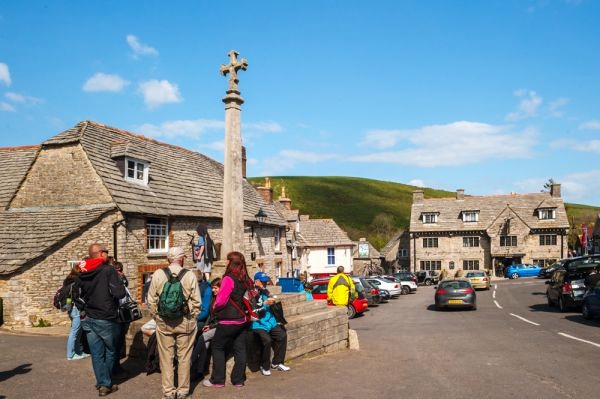 This castle was built on a steep hill, which provides the visitors with a beautiful and captivating view. The castle is listed in the Scheduled Ancient Monument.
Castle Howard, Yorkshire
This castle has a stunning interior and a breathtaking landscape view with lakes and gardens. This is one of the most beautiful castles from around the world.
Catherine Palace, Russia
This palace is named after the wife of Peter the Great. Catherine ruled Russia for 2 years, after the death of her husband. This castle has a spectacular interior and a stunning outside view. This is a true Royal Castle and has a beautiful use of art.
We all dream to live a life of a Prince or a Princess, who lives in a beautiful castle, with a stunning interior and mesmerizing sunset view. Above mentioned is the list of most beautiful castles from around the world, which you can surely visit and imagine yourself as its prince or princess.