Decorating your house or apartment is simply one of the best parts about having your own space. While there are plenty of ways to decorate your home and there are many things you can use, one of the best are plants.
They are versatile, look great, and can help you bring the outdoors in and give your home some natural beauty and elegance at the same time. Also, with plants and flowers delivery, it is easier than ever to get your favorites delivered right to your door.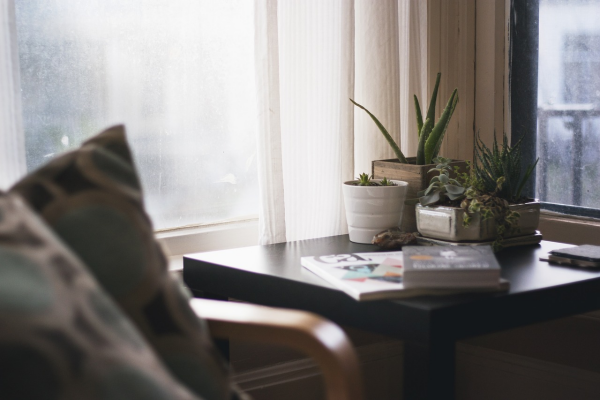 These plants and flowers make wonderful decor in the living room, in your office, in the bedroom, and even the bathroom. But how should you use plants when decorating your space? Well, that is exactly what this article is going to take a closer look at.
Read on to learn more about a couple of awesome ways to use plants when decorating your home.
Arrange Plants on Shelves or Stands
The most tried and true way to decorate your home with plants is to simply arrange them on shelves, stands, or counters. Many plants will look great in a pot or vase simply sitting on a shelf throughout your home. They mesh and blend well with existing decor, while providing a little more of a natural feel.
You can load up a certain shelf with a variety of different plants, or simply have a couple of them strategically placed throughout your home. The choice is yours, and don't be scared to add plans to every room in your home, as you can generally never have too many.
While many people opt for plants that are easy to grow in their homes, there are plenty of others to choose from. Of course, if you choose plants that are a little more challenging, you may have to be more careful about where you put certain flowers and plants. Some can be quite picky when it comes to things like the temperature and sunlight, so always research the ideal conditions before adding a plant in and around your home.
Utilize Vines or Climbing Plants
Another great way to use plants to decorate your home is to utilize vines or climbing plants. These can give a very unique look to your home, and ensure that plants play a very large role in the overall vibe that your home gives off.
When plants like these are around, they absolutely command attention and can completely transform a room. If you have a green thumb and want everyone who steps in your space to know it, some vines and climbing plants can work wonderfully.
Of course, these will often need to be pruned or cut a little bit in order to keep them from getting too large or extending too far. Some can grow quite quickly, so always ensure you are ready to trim or prune if need be.
Get Creative with the Container
If you decide to simply display your plants or flowers in pots or vases on shelves, it can be a little bit too basic for some. It certainly looks good, but many people want their space to have a little more flair or be a touch more interesting. If this is the case for you, why not get more creative with the pots, vases, and other containers that you keep these plants in?
You can paint them, add fun designs, or simply be on the lookout for containers that add more excitement to the decor in your home. There is also the option of using unique and different containers. For example, some people may put plants in old watering cans, coffee cans, boots, or anything else that looks good and fits with the overall aesthetic of your home.
Mix and Match for an Interesting Look
When it comes to decorating with plants and flowers, many people tend to stick to a few different types, and in a few different places. However, don't be afraid to get a little more creative and begin to mix and match things.
Variety is the spice of life, and having different plants and flowers within your home in different places can look absolutely stunning. Feel free to mix big plants with small ones, and have plants of varying types in your space. This ensures each space is unique, and makes it a bit more special and noticeable.
This not only goes for the size and type of plant, but also where you put it and how it is presented. You can hang plants from the ceiling, add them to large pots on the floor, and express your creativity in many other ways, as well.
Create Wall Art With Plants
While living plants are the preferred option for most, it isn't your only choice for displaying plants as a part of your home decor. A popular choice among many is to actually create wall art with plants.
Simply press plants, and then they can easily be put in a picture frame and be put on display throughout your home. Many flowers look wonderful when they are pressed, and these pieces of art can impress visitors for a much longer time than traditional plants and flowers can.
If you prefer to stick with living plants, there are indeed some pots or display cases for plants that can be added to a wall for a unique or interesting look in your home.
Build Your Own Terrarium
Last but certainly not least, another great choice for decorating with plants is to build a terrarium. A terrarium is an indoor mini garden that exists inside a small glass container, in most cases.
They often feature small succulents, air plants, moss, and even some rocks. They can be displayed on a shelf, but are also often hung from a wall or ceiling. These are especially great for small spaces and areas that may not be suited for a full-sized plant. But even in large spaces, a delicate and beautiful terrarium can look truly stunning.
In conclusion, there are many stunning ways that you can use plants in decor to take the look and feel of your home to the next level.